Verizon Tells Congress Cable Deals Ease Spectrum Crunch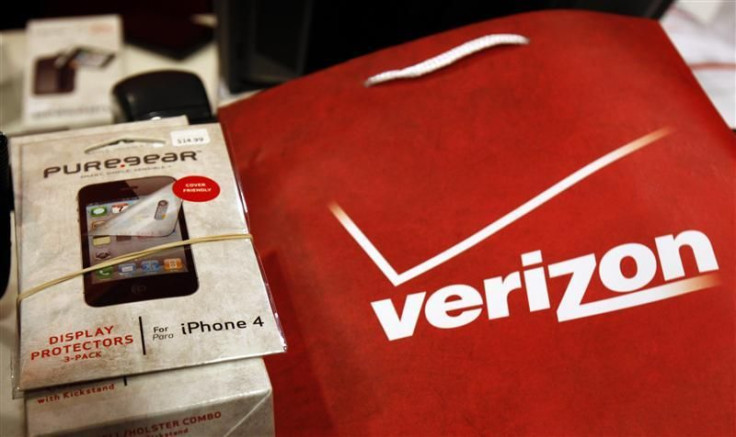 (Reuters) - Verizon Communications and Comcast executives, in testimony on Capitol Hill on Wednesday, defended joint spectrum and marketing deals as a way for the wireless carrier to handle a coming spectrum crunch.
Verizon Wireless, the largest U.S. carrier, announced plans on December 2 to pay Comcast Corp (CMCSA.O) and Time Warner Cable Inc (TWC.N) $3.6 billion in spectrum and marketing deals. It reached a similar agreement with Cox Communications just days later.
The cable operators would resell Verizon's mobile service as part of the deals.
Opponents have focused on Verizon's already large spectrum holdings and cross-marketing agreements between Verizon and the cable companies, while some consumer advocates have said the companies should compete against each other, not collaborate.
The Federal Communications Commission and Justice Department must approve the deals. The Justice Department recently blocked AT&T Inc's (T.N) purchase of T-Mobile USA, a deal that AT&T said it needed to address spectrum shortages.
Senator Herb Kohl, chair of the antitrust subcommittee, expressed concern that Verizon and Comcast would no longer compete as vigorously.
The fundamental question we must answer is whether these deals will bring beneficial new choices to consumers, or amount to previously fierce rivals standing down from competition.
Lawmakers have no official role in the legal review.
During the hearing, Verizon and Comcast executives said that the spectrum sale and marketing agreement, which were announced at the same time, were being reviewed by antitrust and telecommunications regulators separately. They are not contingent upon one another, added Verizon Communications General Counsel Randall Milch.
Comcast Executive Vice President David Cohen concurred: I do not disagree with Mr. Milch. There is no legal connection between them.
Senator Mike Lee, a Utah Republican, noted in his comments that under the marketing agreement, each time Verizon or Comcast sold the other's product there would be a one-time commission of a few hundred dollars.
In his testimony, Milch argued that his company had spent billions to better use the spectrum it had but needed more because of the explosive use of spectrum-hogging smartphones, tablets and video and audio streaming.
We do not believe that we can engineer our way out of the spectrum crunch, he told the Senate Judiciary Committee's antitrust subcommittee.
Data use on Verizon's network has more than doubled each of the last three years, and is expected to continue growing, according to the company.
But Steven Berry, president of RCA, a trade group of smaller wireless providers, urged regulators to block the deals, saying they would have an insidious and disastrous effect on competition.
If not blocked, he urged the imposition of stringent conditions like spectrum divestitures and affordable roaming for smaller competitors.
Through the spectrum transaction, related marketing deals, and joint venture between the companies, Verizon will not compete for wired services with the cable companies, and the cable companies will not compete for wireless service with Verizon, Berry said in written testimony.
Former antitrust enforcers have said that the marketing deals would create allies out of former rivals, to the detriment of consumers. The Justice Department is known to be looking at the agreements.
Comcast's Cohen defended the marketing agreements and said they should arouse no concern.
The commercial agreements at issue here are ordinary and customary, market standard agreements. There is no merger here, he said. Not one competitor will be removed from the marketplace.
Verizon Wireless is a joint venture of Verizon Communications Inc (VZ.N) and Vodafone Group Plc (VOD.L).
Verizon Wireless rivals, including Sprint Nextel Corp (S.N), T-Mobile USA and MetroPCS Communications Inc (PCS.N), have urged regulators to block the Verizon deals. Deutsche Telekom AG's (DTEGn.DE) T-Mobile said the deals would result in an excessive concentration of spectrum holdings.
Verizon Wireless and AT&T, the No. 1 and No. 2 U.S. mobile providers, have said they need more spectrum to support increased consumer demand for videos and other services that soak up bandwidth.
Rick Rule, an antitrust expert at Cadwalader, Wickersham & Taft LLP who testified on Wednesday, predicted the spectrum deal would be approved by the Justice Department.
A transaction that takes assets that are producing zero and is going to put the assets in hands of a company that is going to generate some output from those assets is by definition not a violation of the antitrust laws, he said.
© Copyright Thomson Reuters 2023. All rights reserved.
FOLLOW MORE IBT NEWS ON THE BELOW CHANNELS