Vermont Man Crushes Cop Cars After Pot Bust, Causing $300K In Damage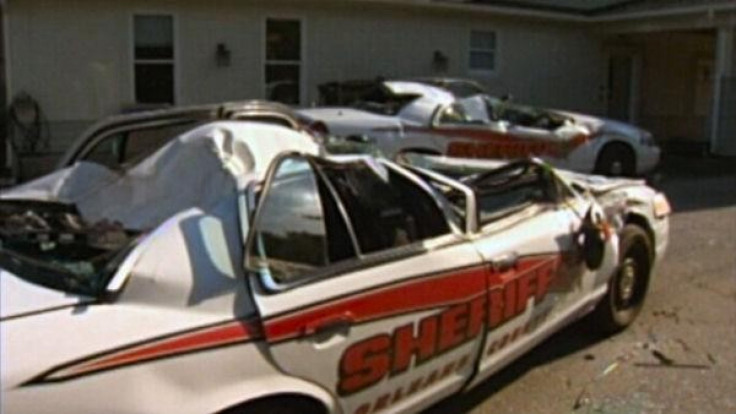 A Vermont man, apparently upset over his recent marijuana arrest, has used his tractor to crush several police cars in Orleans County on Thursday. The man then fled on his trailer before being apprehended by police.
The man, identified as Roger Pion, 34, climbed on top of the cars - five cruisers, one unmarked car, and a transport van - with his trailer, destroying them beyond repair and damaging expensive equipment inside. While no one was injured in the makeshift demolition derby, estimates place Pion's damage at about $300,000.
Because Pion had destroyed the Sherriff Office's entire fleet save for a few cars on patrol, initially officers had no way of catching up to Pion to arrest him. For a while, it seemed that Pion may have been able to escape even on his slow moving tractor.
According to Chief Depity Phillip Brooks, "We had nothing to pursue him with."
"Nobody was hurt. That's the thing everybody's got to cherish," Sheriff Kirk Martin told the Associated Press.
"The radios are ruined, the radar detectors, the cages in the cars ... We're going to have to get the jaws of life up here to pry the trunks open and see about the rifles and shotguns," Martin said.
According to a Vermont State Police statement, officers were able to catch up to Pion's slow-moving tractor in Newport and bring him in for arrest. The statement is unclear whether or not officers apprehended the man on foot or if he was picked up by a police car on patrol.
Pion is currently being held on $15,000 bail awaiting trial for "seven counts of felony unlawful mischief, one count of misdemeanor unlawful mischief, one count aggravated assault on a law enforcement officer, one count of gross negligent operation, and one count of leaving the scene of an accident."
© Copyright IBTimes 2023. All rights reserved.