Veterans Day Parade 2017 NYC: America's Parade Start Time, Route And Live Stream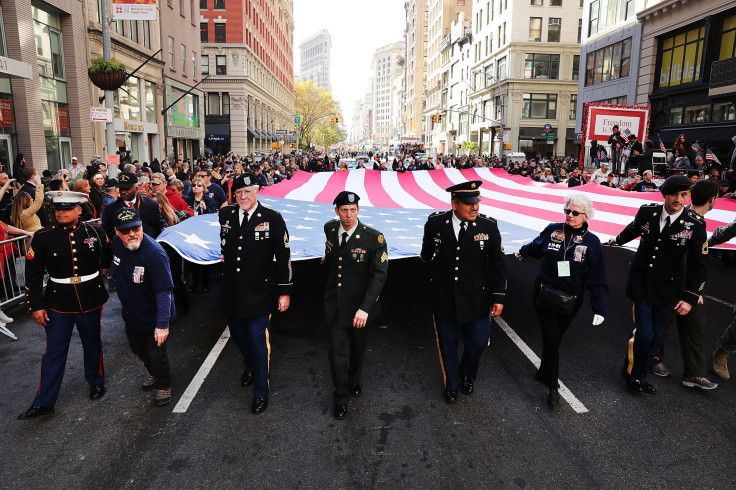 Hundreds of thousands of people were expected to turn out Saturday for America's Parade in New York City. Over 300 marching units and tens of thousands of marchers will assemble near Madison Square Park, including veterans, military units, civic & youth groups, businesses, and high school bands.
This year's theme marks the centennial of America's entry into the First World War (1917 - 2017). The parade will kick off with the traditional Opening Ceremony, which will be held at 10 a.m. in Manhattan's Madison Square Park located on 24th Street and 5th Avenue. The parade will begin 11:15 a.m.
The ceremony will end with a wreath laying at the Eternal Light Monument, followed by a Veterans Street Fair and other activities.
"November 11 is a special day to honor service and to remind all Americans, and our elected leaders, of the debt of honor we owe those who have served our nation," United War Veterans Council President Dan McSweeney said. "At the United War Veterans Council, we consider this a solemn obligation to keep alive in the hearts of Americans a sense of gratitude and obligation to serve those who have served us."
Route: From Madison Square Park the parade proceeds up Fifth Avenue from 26th Street to 52nd Street. The parade runs past the Empire State Building, Rockefeller Center, and St. Patrick's Cathedral.
Watch: If you can't make it to the parade, there are several outlets that will be broadcasting and live streaming America's Parade events. Millitary.com will provide a free live stream of the event. Here is the link to watch it online. To view using a mobile device, click here. The New York City Veterans Day Parade is broadcast live from 12 noon to 3 p.m. on television on WPIX (PIX11) and American Forces Network (AFN), along with other networks.
The Parade is hosted by the City of New York and is supported by several partners, including JP Morgan Chase & Co., Military to Motorsports, UWVC Recycling, Cushman & Wakefield, A&E Networks/HISTORY, Wounded Warrior Project and First Data.
Last year's theme was to honor the 15th anniversary of 9/11 and give special recognition to the veterans who served in Afghanistan and Iraq. First responders and soldiers who served in post 9/11 events were acknowledged during the parade while the United States Coast Guard served as America's Parade featured military branch.
© Copyright IBTimes 2023. All rights reserved.