VIDEO 10 Best Soccer Goals Of 2015: Lionel Messi Leads Candidates From FIFA's List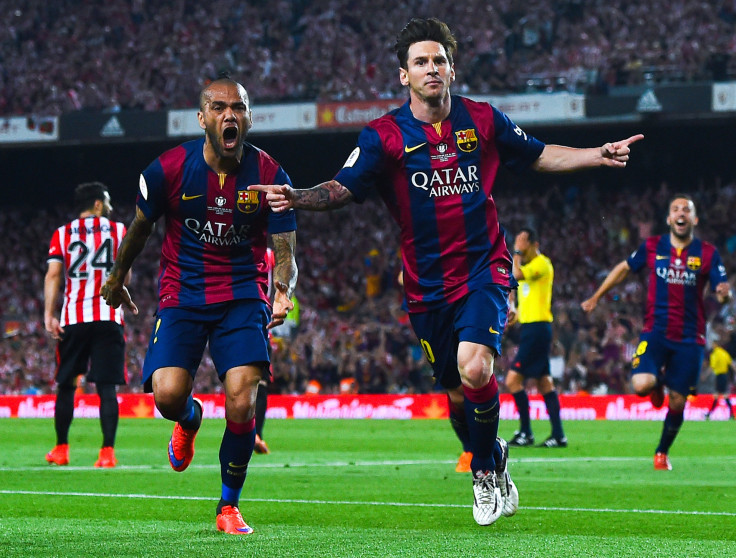 Hardware's become synonymous with Barcelona forward Lionel Messi's career, so it seems only fitting that the 28-year-old superstar could be the first player in history to collect both the Ballon d'Or and FIFA's Puskas Award in the same year.
As he contests with Real Madrid rival Cristiano Ronaldo and Catalans teammate Neymar for the sport's highest individual honor and the fourth of his stellar career, Messi's simultaneously trying to fend off Roma's Alessandro Florenzi and Goianesia's Wendell Lira for the year's best goal award.
On Monday, Messi, Florenzi, and Lira learned they made the shortlist of Puskas contenders after the field was whittled down from 10, and the winner will be announced at the Ballon d'Or ceremony in Zurich on Jan. 11, 2016.
That night Messi could take to the podium twice, the first for his leadership and 58 goals across all competitions during Barcelona's rush for the treble last season and secondly for his incredible strike against Athletic Bilbao in the Catalans 3-1 Copa del Rey final victory in May.
But Florenzi and Lira beat out the rest of the field and made the shortlist for a reason, and their goals could very well leave Messi with at least one empty hand next month.
Here's a look back at the short and long list of nominees for this year's Puskas.
Wendell Lira vs. Atletico-Go, March 11, 2015
Nominated and named to the shortlist not only for Lira's breathtaking precision and accuracy, but this stands as the only team goal in contention. Lira's bicycle kick helped Goianesia secure the Goiano title by cutting through the defense and maintaining his concentration for one of the best goals of this or any other year.
Lionel Messi vs. Athletic Bilbao, May 30, 2015
This strike may serve as Messi's case to win both awards. He singlehandedly tore through five Bilbao defenders and knifed a left-footed strike into the bottom right corner of the net to secure one of Barcelona's three titles last season.
Alessandro Florenzi vs. Barcelona, Sept. 15, 2015
Florenzi kept his Serie A side level and pulled off a draw by making Catalans keeper Marc-Andre ter Stegen pay for jumping out of position during Champions League play. Amazingly taking his shot just a few steps into Barcelona's midfield, the Italian careened his beautiful strike over Ter Stegen's head and banged it off the left post and into the net.
Carlos Tevez vs. Parma Calcio, Nov. 9, 2014
The Argentine first shoved away one defender, then split two more before capping his blistering run with a right-footed ground shot that could not be contained. It was a marvelous display from a player who still has something left in the tank.
Esteban Ramirez vs. Deportivo Saprissa, Nov. 2, 2014
A blend of smart defense and ball control, Ramirez swiped away a loose ball from a Saprissa defender in the air and then kept the ball in play with a touch header before volleying into the back of the net. It's a goal that might have been overlooked because it happened over a year ago, but Ramirez's craft deserves more praise.
Marcel Ndjeng vs. Bolton Wanderers, July 13, 2015
Another volley blast, except this one began all the way back inside Bolton's midfield and the 33-year-old Ndjeng showed exceptional precision with his strike.
Philippe Mexes vs. Inter Milan, July 25, 2015
Corralling Giacoma Bonaventura's pinpoint cross with a move that's typically found in a "Mortal Kombat" video game, Mexes' scissor-kick volley proved the difference in AC Milan's ICC victory over their crosstown rival.
Carli Lloyd vs. Japan, July 5, 2015
The decorated American secured a hat trick with her 54-yard, right-footed power shot 16 minutes into the 5-2 victory over Japan to secure the FIFA Women's World Cup title. An important goal for both Lloyd and her country's new reign atop the sport.
Gonzalo Castro vs. Deportivo De La Coruna, April 12, 2015
If Castro had made it to the short list, he likely would've brought Real Sociedad teammate and midfielder Sergio Canales to the ceremony for his stunning cross. In the clip, you can see Castro's eyes sizing up the ball until he unleashes a devastating, side-winding volley into the back of the net.
David Ball vs. Preston North End, March 29, 2015
The 25-year-old Fleetwood Town striker effortlessly shook his defender and created space for a softly touched chip that caught Preston North End's backline and keeper completely off guard.
© Copyright IBTimes 2023. All rights reserved.