VIDEO Arsenal 2-0 Manchester City: Highlights, Goals; Cazorla And Giroud Hand Gunners Superb Win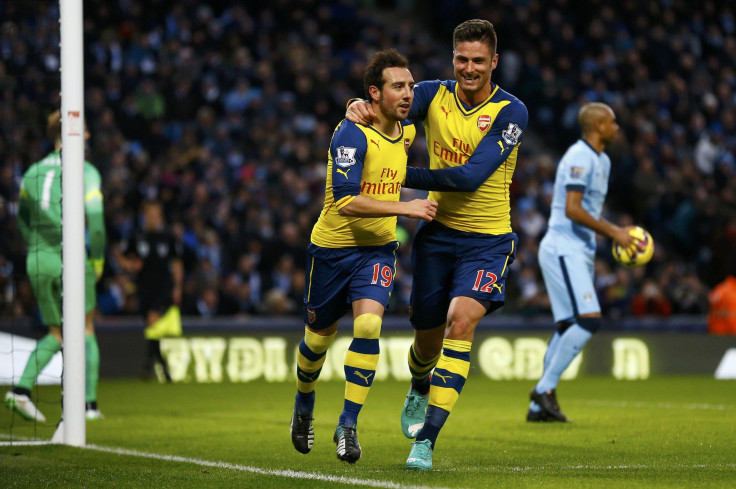 Arsenal produced a supremely disciplined performance to end their nightmare run against the Premier League big guns away from home, thanks to goals from Santi Cazorla and Olivier Giroud against Manchester City at the Etihad Stadium. At a venue where they were torn apart 6-3 last season, Arsenal put on a rare display of tactical intelligence, composure and determination to nullify the threat of the defending champions. A penalty converted by Cazorla midway through the first half and a Giroud header from the Spaniard's free-kick at a similar stage in the second gave Arsenal a crucial win in their efforts to climb into the top four. Meanwhile it left a City team, who didn't get going in any capacity until the second half, five points off Chelsea at the Premier League summit.
Perhaps more importantly than simply the three points for Arsenal, though, is that it could well provide a blueprint for how to approach the most difficult away fixtures. It had been 16 matches since Arsene Wenger's side had taken three points from any games against Manchester City, Chelsea or Manchester United, while their failings in the big matches on the road last season fatal to their hopes of winning a first Premier League title in a decade. In fifth place, 13 points off the top, a serious challenge this season is surely beyond them, but at least on Sunday there were sure signs that Wenger was prepared to learn from his errors and set up a team that focused as much on the threats of the opposition as those of his own team. With clear instructions to be more cautious going forward, Wenger's team responded by putting in a committed display from front to back.
Still, all praise for Arsenal must be tempered by the fact that this was a desperately poor performance by a Manchester City team that has gone from level on points with Chelsea to a five-point deficit in the space of a week. Without the presence and driving force of Yaya Toure in midfield, Manuel Pellegrini's men were horridly flat and lacking any connection between their midfield and their key danger men David Silva and the fit again Sergio Aguero. While City came out much better at the start of the second half, they lacked an incisive final ball and Arsenal were able to withstand the pressure before Giroud ended their resurgence.
The same fixture last season was ludicrously open, with Arsenal as always simply turning up and hoping to delight with their own attacking brand of football. The same tactic had seen them brushed aside even more humiliatingly at Stamford Bridge and Anfield to leave Wenger seemingly the only one who couldn't see the need for change. He finally got the message here. His team were happy for City to dominate possession early on, while his team sat back, with the back four impressively protected by a man who was playing on loan at Championship side Charlton Athletic just last month, Francis Coquelin. With the center of the pitch blocked off and the space closed up, Silva, the man who makes City tick, was a non-factor.
While showing superb discipline, Arsenal were ready to try and take their chances on the counter-attack. Getting something tangible for their efforts was always going to be pivotal for a team playing in a style so anathema to their philosophy. Vincent Kompany, in what was a horror show of a first half for the City captain, gave them the chance to get it. Nacho Monreal went to get onto the end of a one-two down the left of the box, but was clearly and deliberately checked by the Belgian. Cazorla just beat a diving Joe Hart from 12 yards.
City had just one shot in the opening 45 minutes and Pellegrini responded by replacing James Milner with Stevan Jovetic at the interval. The improvement was immediate, with City showing more attacking thrust in the first five minutes of the second half than throughout the opening period. But when David Ospina, again starting in place of Wojciech Szczesny, was called upon he did what was asked of him, notably turning an Aguero shot behind. City's biggest chance to make inroads continued to be on the right, but Jesus Navas' delivery continued to disappoint. The momentum they were building was also stuttered by some sloppy passing, especially from the foot of Fernandinho.
Still, the game was more stretched than was ideal for an Arsenal team with the lead, and City went close when Navas' cross was just touched away from Aguero by Laurent Koscielny. This time, though, Arsenal didn't buckle. Unlike their opponents. In the 67th minute, Cazorla chipped in a free-kick and the home side allowed three Arsenal players to run in behind their high line, with Giroud the man to get his head to the ball and beat Hart.
The drive had again been taken out of City. Having won nine and drawn three of their last Premier League matches to close the gap to Chelsea, the pressure is now firmly on their shoulders to get a victory when they travel to Stamford Bridge in two week's time. Arsenal, meanwhile, can think about pushing on and making that regular place in the top four their own once more.
© Copyright IBTimes 2023. All rights reserved.