VIDEO Atletico Madrid 0-0 Chelsea: Highlights; Blues Get What They Came For In Champions League Semifinal First Leg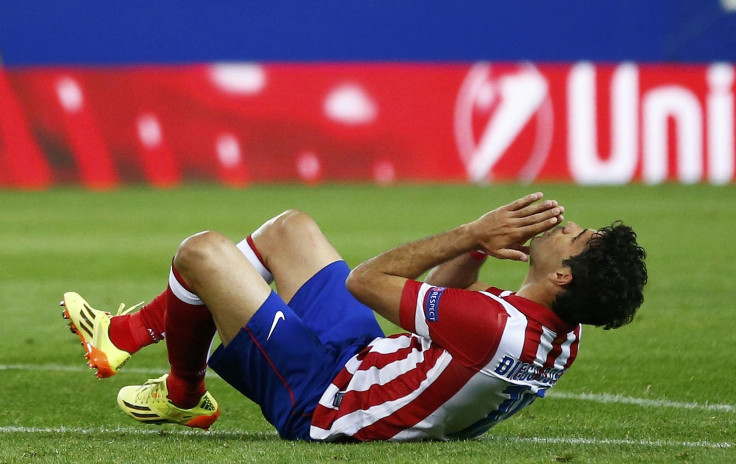 Chelsea came to the Spanish capital with startlingly little ambition, but emerged with the result they came for after a dire goalless draw with Atletico Madrid in the first leg of their Champions League semifinal.
Determined to limit Atletico Madrid's strength on the counter attack, Jose Mourinho set up with three defensive midfielders and his team spent the majority of the encounter with every player, bar the returning Fernando Torres, behind the ball. In the unfamiliar position of being faced with a wall of defenders, Atletico tried manfully to break Chelsea down but ultimately lacked the invention required.
Their main tactic was to hit aerial balls into the box, a strategy they continued despite being shown ample evidence that it played into the hands of Chelsea center-backs John Terry and Gary Cahill. The aerial route only began to pay off when Chelsea, who had already lost Petr Cech early on with a dislocated shoulder, were forced to play the final 17 minutes without Terry due to injury. But Raul Garcia, Arda Turan and Diego Costa all missed presentable headed chances as the nets remain undisturbed and the tedium was preserved.
Any being in the unfortunate position of being dropped from another planet into the Vicente Calderon on Tuesday evening would be of the impression that Chelsea were the David going up against the Goliath of Atletico. The reality of the spending power and ambitions of the two clubs, though, are vastly different.
And, while Chelsea got the scoreline they desired, a goalless draw away from home is far from the exceptional result that their approach to the match suggests. When given time to reflect, Diego Simeone will quite possible be relishing the prospect of his counter-attacking outfit heading to Stamford Bridge next week knowing that a crucial away goal against a side surely missing Cech and Terry will leave Chelsea needing to score twice.
Still, given they were without Branislav Ivanovic through suspension and lost fellow defensive stalwarts Cech and Terry, Chelsea deserve credit for holding their opponents at bay. Until the final five minutes of the opening half, the most interesting moment was Cech's injury. After going up to prevent Koke's corner from creeping in, Raul Garcia, shoved by David Luiz, knocked into the Chelsea goalkeeper and caused him to fall awkwardly. He immediately signaled that he would need replacing and it was later confirmed that he had dislocated a shoulder and thus will miss the rest of the season. After the intense debate about whether on-loan Chelsea goalkeeper Thibaut Courtois would be able to play for Atletico, it was now Chelsea who would have to play without their No. 1.
Cech's replacement, Schwarzer, was called into action for the first time to turn Mario Suarez's 25-yard strike wide, although his touch wasn't spotted by the officials. The first official shot on target then was when the ineffective Diego cut in on his left foot and hit a tame shot straight at the 41-year-old Australian.
Schwarzer, who was culpable for Sunderland's opening goal on Saturday, had a couple of nervy moments in the second half. One of them, when he punched weakly, led to another opening for Diego, but the Brazilian opted against shooting first time and then again presented Schwarzer with a comfortable save.
The pattern of the match continued throughout. Torres was left totally isolated upfront and was largely wasteful on the few occasions he did have possession on the return to a club he once captained and where he is still idolized. The striker's best moment of the match came when showing some nice footwork but curling a shot straight at Courtois.
Tensions between the two sides, which were always simmering, boiled over when Frank Lampard was extremely fortunate not to be shown a second yellow card for a deliberate handball. Both Gabi and John Mikel Obi were booked for their part in the subsequent melee and they, along with Lampard, will now miss the return leg.
Terry may also be forced to watch from the sidelines. David Luiz inadvertently inflicted an injury on a second Chelsea player when stepping on one of Terry's feet and forcing his skipper off. Atletico looked to seize on the veteran defender's absence and stepped up their aerial assault once again. But after Raul Garcia headed over and Arda wide, the frustrated Diego Costa failed to get enough purchase or direction on his header as the match creaked toward its inevitable conclusion.
Atletico vs Chelsea 0-0 Highlights & All Goals...by luckypro2207
© Copyright IBTimes 2023. All rights reserved.