VIDEO Barcelona 2-1 Almeria Highlights, Goals: Suarez, Neymar, Alba Save Catalans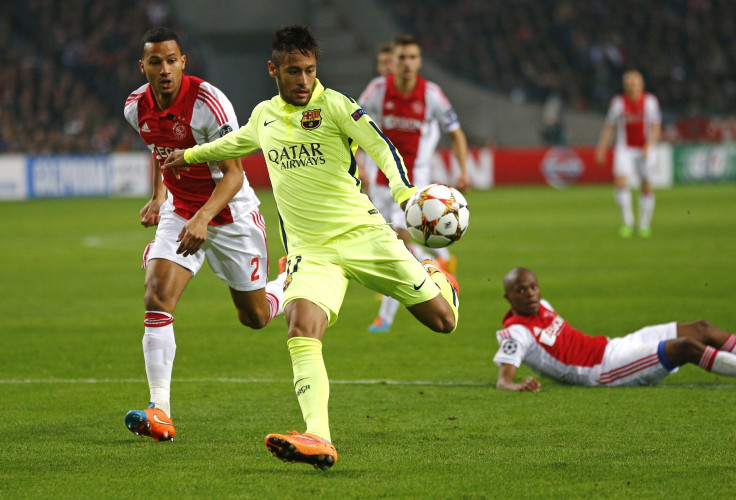 Two late second-half goals nine minutes apart saved Barcelona from embarrassment and provided a 2-1 comeback victory over Almeria Saturday at the Mediterraneo.
Not since 2003 had Barcelona lost three straight Primera Division games, but they were in serious danger of doing so until Neymar's equalizer in the 73rd and defender Jordi Alba's winner in the 82nd, both assisted by Luis Suarez.
Any worries before the match were cast aside when the Catalans defeated Ajax in Champions League player earlier in the week, highlighted by Lionel Messi's two goals. But fears increased as Barcelona failed to breakthrough despite 18 total shots, with six on target, compared to six total and just two on target for Almeria.
Almeria jumped all over the Catalans to start the match, with forward Thievy Bifouma scoring his first goal of the campaign in the 37th minute for a 1-0 lead. The 22-year-old French national kickstarted a fastbreak on his own, jetting past the Catalans back line and accepting Fernando Soriano's through ball. Bifouma was all alone for a quick strike past Claudio Bravo.
And the match remained in Almeria's favor for the next 35 minutes, until Neymar and Suarez hooked up. Suarez started the second half, and eventually directed a stellar low cross in heavy traffic to Neymar in front of the Almeria net to break the tie.
Suarez again showed off his playmaking skills, chipping a cross over the Almeria backline on a fast break to Alba, who easily tucked the ball away for the winner. The Uruguayan now has three assists on the year since returning from his suspension.
© Copyright IBTimes 2023. All rights reserved.