VIDEO Chelsea 2-0 Stoke: Highlights, Goals; Terry And Fabregas Take Blues Clear At Premier League Summit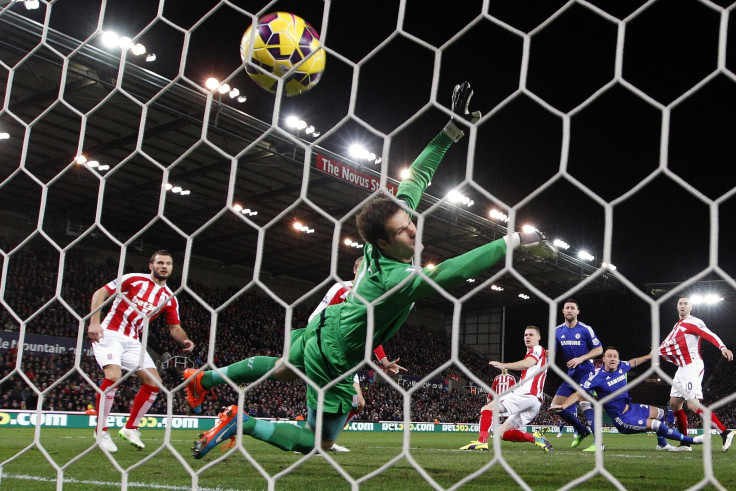 Chelsea ensured they will be top of the Premier League on Christmas Day thanks to and early goal from John Terry and late effort from Cesc Fabregas to give them a 2-0 win over Stoke City at the Britannia Stadium. Chelsea's captain headed in a Fabregas corner less than two minutes into the contest and Chelsea restricted Stoke to precious little going forward before Fabregas's scuffed finish ensured a victory that means they move back to three points ahead of nearest challengers Manchester City.
Run-away leaders just a short time ago, Chelsea have seen their lead at the top eaten away by City's strong run of form in recent weeks. While of symbolic performance, the omens for Chelsea of being top on Christmas Day are certainly positive, with the club going on to lift the title on the three previous occasions they have achieved that feat in the Premier League.
Visiting a stadium where they lost 3-2 last season, Monday's contest promised to be a testing one. But they got off to a perfect start when Terry won a physical battle with Geoff Cameron in the center of the box to power a header past Asmir Begovic. It proved to be a precursor for how Chelsea dealt with Stoke's physical threat throughout a contest where, without being spectacular, they put in an almost exemplary away performance.
Stoke, while now more varied in their play, showed the damage they can still do with their strength and aerial power against Arsenal recently, but Chelsea never looked likely to go down the same way. Thibaut Courtois was authoritative in dealing with every high ball into the box, aided by the strength of Terry and Gary Cahill in front of him. The star of the show, though, was Nemanja Matic. The Serbian ruled the center of the midfield and barely allowed a single thing past him onto his back four all night.
Whatever a Stoke team that remain 13th in the table threw at them, Chelsea had an answer. The only time they look discomforted was when they were rightly incensed by a late, high, forceful challenge from Phil Bardsley on Eden Hazard in the 19th minute. Jose Mourinho was furious on the touchline and had a right to wonder how only a yellow card was forthcoming for the defender. That incident and the reaction to it heated up the atmosphere at the Britannia and it inspired Stoke to one of their best spells of the match. Courtois had to react quickly to turn a deflected effort from Stephen Nzoni behind, while Jonathan Walters lacked conviction when given a site of goal.
It could have been 2-0 to Chelsea, though, at the interval. One of the numerous interventions by Matic led to Costa being freed by Fabregas behind an errant offside trap but the Spain striker shot wide of the post.
The best Stoke could do was keep the match in the balance, even though there was always a feeling that Chelsea had the match under their control. Stoke struggled to come close to beating Courtois until a shot from substitute Charlie Adam from the edge of the box with 19 minutes remaining clipped the outside of the post. Adam later became the second Stoke player to count himself fortunate not to see red when he blatantly and ridiculously directed two swinging elbows at Andre Schurrle.
By that point, though, Chelsea had secured the three points. There was a touch of fortune about the 78th minute goal, too. Fabregas's initial touch from Hazard's pass to find him inside the box was heavy and his second was scuffed, but the misdirection fooled Begovic and allowed the ball to trickle into the net. The only disappointment for Chelsea was Hazard being forced off after taking a knock to his ankle.
© Copyright IBTimes 2023. All rights reserved.