VIDEO Chelsea 4-0 Maccabi Tel-Aviv Highlights: Willian, Costa, Oscar's Goals Lead Blues' Onslaught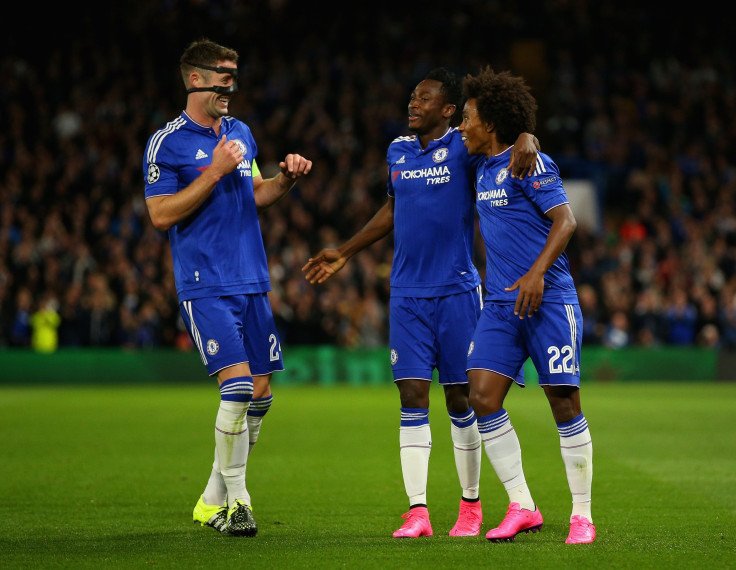 Willian's incidental free kick goal propelled reeling Chelsea to a 4-0 victory over Maccabi Tel-Aviv in Group G Champions League play Wednesday at Stamford Bridge.
The Brazilian midfielder originally intended to sweep the ball into the Israeli side's box to any number of teammates capable of converting the well-placed kick, instead it soared into the top right corner of the net past Maccabi keeper Predrag Rajkovic. Chelsea would never looked back, adding three more goals in the next 63 minutes.
Oscar would pad the lead with a penalty strike before the close of the first half, while substitute striker Diego Costa and midfielder Cesc Fabregas put the match away with goals in the 58th and 78th minute, respectively. The final score could have been worse, with playmaker Eden Hazard sailing a penalty into another stratosphere in the sixth minute.
Still, it was a much-needed victory for the Blues, who were coming off a heartbreaking 3-0 loss to Everton in Premier League play and required a dominate performance to get over their poor domestic start.
Spaniards Costa and Fabregas, a devastating tandem last season, rediscovered their chemistry for the match's most impressive goal. Fabregas launched a cross into the heart of Maccabi's box and Costa effortlessly volleyed the ball into the top right corner.
Recovering a blocked Loic Remy shot, Fabregas piled the attack on by finishing off a fastbreak with a right-footed strike inside the six-yard box, marking his first goal since international play with Spain back in June.
Maccabi originally believed they were facing a wounded Chelsea side, particularly the backline, but quickly realized they were outmatched and looked frustrated. Maccabi failed to generate much an attack in the opening 45 minutes, losing the possession battle 68-32 and forcing only two off-target shots.
Those frustrations boiled over and resulted in the Blues second goal off Oscar's penalty four minutes into added time in the second half, following defender Tal Ben Haim's ill-advised foul on Costa.
© Copyright IBTimes 2023. All rights reserved.