VIDEO Chelsea 6-0 Arsenal: Highlights; Blues Destroy Gunners' Premier League Title Hopes In Spectacular Fashion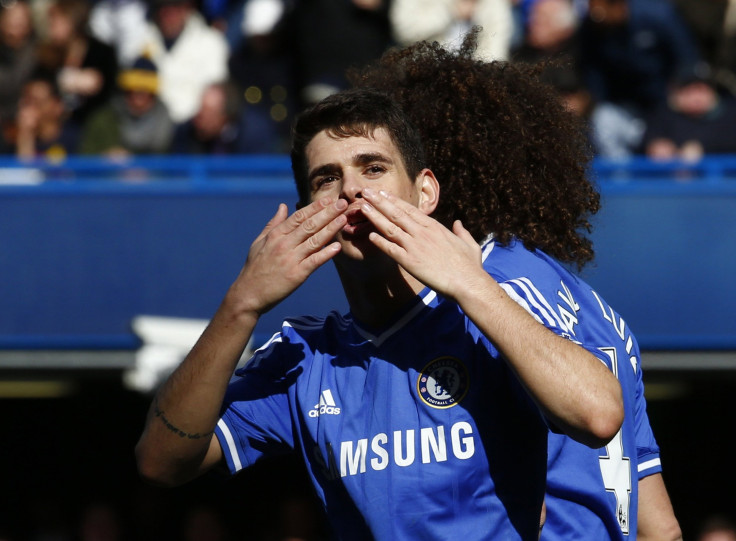 For Arsene Wenger it was the equivalent of the bully from down the street turning up at his party and laying waste to it. After a week of tributes to mark Wenger's 1,000 match in charge of Arsenal, his bitterest rival Jose Mourinho masterminded the inflicting of a defeat surely as painful as any he has suffered in the previous 999.
Wenger, though, was again an all-too acquiescing in his own downfall. A managerial great he undoubtedly is, but he bares a large share of the culpability for a 6-0 mauling that saw then 3-0 down and a man down inside 17 minutes and effectively extends their wait for a Premier League title beyond a decade.
The punishment kept arriving for Arsenal in remarkably similar fashion. After Arsenal sloppily gave the ball away, they were left wide open from just one simple pass. Samuel Eto'o put Chelsea in front in the fifth minute before Andre Schurrle doubled the advantage at Stamford Bridge just over two minutes later. The match then took a bizarre turn when Alex Oxlade-Chamberlain used his hand to deflect a shot that was already going wide. Referee Andre Marriner in a case of ridiculous mistaken identity instead showed red to Kieran Gibbs. The fact remained that the visitors were now a man down and seconds later when Eden Hazard slotted home the penalty they were three goals down.
What happened subsequently was academic in terms of the destination of the three points. But Chelsea seized gleefully upon the invitation to add painful insult to injury for their opponents. Oscar scored either side of half-time before Mohamed Salah came off the bench to join the party and get his first goal for the club.
Arsenal had played right into Chelsea's hands. In leaving out Mathieu Flamini and putting Alex Oxlade-Chamberlain in midfield, meaning the defensively negligent Lukas Podolski started on the left, Wenger was clearly looking for the win he needed to reignite Arsenal's title charge. But it left his side crudely open time and again to Chelsea's trademark devastating counters.
And Chelsea and Mourinho deserve much credit. He sent out his team to seize upon Arsenal's weaknesses just as Liverpool did when racing into a four-goal lead against Wenger's side six weeks ago. Chelsea pressed high up the pitch and repeatedly harried their opponents into coughing up errors. After a defeat to Aston Villa last week that showed why Chelsea continue to struggle against stubborn lesser opposition, this display again illustrated that he and his side are so effective against their rivals.
But as good as Chelsea were, there is no way to excuse a team with ambitions of lifting the title, even counting for their injuries, being beaten so heavily. And it is far from the first time it has happened this season. Not only have Arsenal continued to struggle to take points off the big teams but they have been torn apart by each of their three supposed rivals for the championship. While Wenger wants to win with style, sometimes it has to be done with resolve, too. His side showed they had the capability to do just that against Tottenham last week, but such willingness to dig in was sorely missing at Stamford Bridge.
Arsenal had in fact had the first clear chance of the match when Olivier Giroud shot tamely at Petr Cech when well positioned. But that was the last moment of any optimism for the visitors.
Oxlade-Chamberlain was heavily culpable in the opening stages. When he lost the ball, as he did for the first and third goals, the pedestrian Mikel Arteta was left just watching Chelsea players charge past him and onto the Arsenal center-backs. Schurrle was a key force for Chelsea. His closing down of Oxlade-Chamberlain allowed Eto'o to curl in a delightful first after turning inside the beleaguered Arsenal midfielder on the edge of the box. The summer signing from Bayer Leverkusen then went it alone for the second when driving low past Wojciech Szczesny from the top corner of the box.
By the time of the third goal, Fernando Torres had replaced Eto'o but there was no let up. Oxlade-Chamberlain's desperate attempt to recover from again conceding possession led to him handling unnecessarily on the line. While it is he who will now doubtless serve the suspension, it was teammate Kieran Gibbs, conspicuous by his absence in his left-back slot as Chelsea ran riot, who was sent back to the dressing room. Hazard's penalty found the net straight down the middle.
There was something of a predictable lull after the early rampage, but Chelsea retained a ruthless appetite for more. Wenger brought on Thomas Vermaelen to replace Podolski, but it proved ineffective in stemming the onslaught. Three minutes before the interval, a simple touch in front of Laurent Koscielny by Schurrle sent Torres away and the Spaniard crossed low for Oscar to turn the ball in from inside the six-yard box.
Wenger finally introduced Flamini, alongside Carl Jenkinson, at the interval, but it was a case of too little far too late. And Oscar, again showing signs of returning to form, struck his second midway through the second half. Tomas Rosicky was this time the man to play the careless pass deep inside his own half and the Brazilian seized upon it before striking a shot that bounced in front of Szczesny and beat the Arsenal goalkeeper's unimpressive attempt to keep it at bay.
The afternoon was then made a perfect one for Mourinho as his two January signings combined to make it 6-0. Nemanja Matic, so consistent in his positioning in front of the back four, had epitomized just what Arsenal lacked. And he showed he could do his bit on the ball, too, when his pass over the top in the 71st minute found Salah running in behind before the former Basel man finished coolly past Szczesny to emphasize that Chelsea remain firmly in the title shakeup.
Chelsea vs Arsenal 6-0 ~ All Goals & Highlights...by All_Goals
© Copyright IBTimes 2023. All rights reserved.