VIDEO Cristiano Ronaldo Slaps, Kicks Cordoba Players As Real Madrid Star Gets Red Card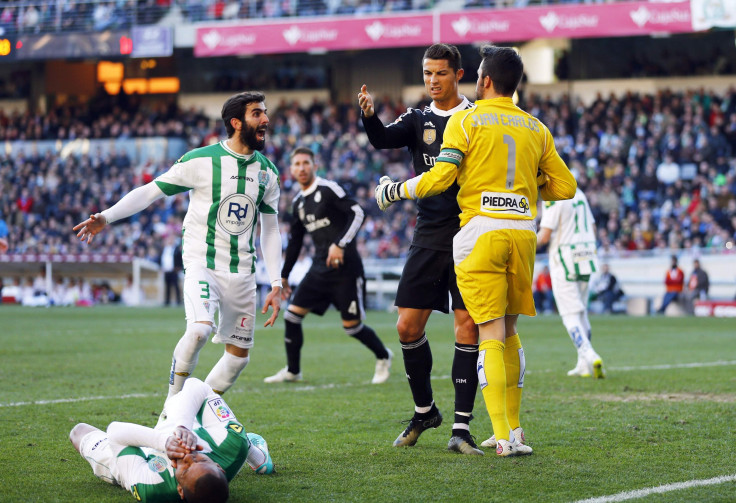 Frustrated by his poor play throughout the day, Real Madrid superstar Cristian Ronaldo was sent off for slapping and kicking opposing Cordoba players in the 82nd minute of Los Blancos's 2-1 victory Saturday.
Madrid were down for most of the match starting with a penalty awarded to and scored by Cordoba's Nabhil Gilhas, and despite his best efforts Ronaldo couldn't put his squad back on top.
The 29-year-old recent Ballon d'Or winner lashed out while charging towards the Cordoba goal, slapping and kicking defenders Edimar and Crespo in the process.
Though none of the blows appeared especially powerful, Edimar went straight down to draw enough attention from the referee for Ronaldo to earn a straight red card.
It's just the fifth overall booking of the year for Ronaldo, who looked completely unconcerned with his actions following the incident. The Portuguese national hero leads La Liga with 28 goals scored already this season, and he should remain atop the leader board when he misses the next match.
Winger Gareth Bale would eventually put Madrid back on top with a penalty shot in the 89th minute following a red card booking for Cordoba midfielder Federico Cartibia.
Check out the Vines below.
© Copyright IBTimes 2023. All rights reserved.