VIDEO Croatia 4-0 Cameroon Highlights, Goals; Mandzukic Brace, Song Red Card Key Vatreni Win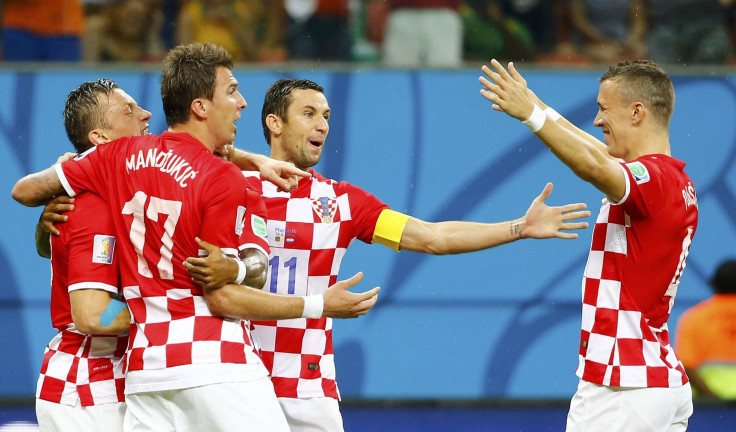 Already missing captain Samuel Eto'o to injury, Cameroon's ability to stage a comeback versus Croatia Wednesday was quickly dashed after defender Alex Song was sent off for punching Croatia striker Mario Mandzukic late in the first half.
Ivica Olic's goal in the 11th minute, Ivan Perisic's solo effort in the 48th minute and a late brace for Mandzukic were plenty to carry Croatia to a 4-0 victory and keep the country's knockout round chances alive, while sealing Cameroon's early departure for the fifth straight World Cup in a Group A match at Arena Amazonia in Manaus, Brazil.
Croatia hadn't claimed a win since 2002 and took umbrage with poor refereeing during their 3-1 loss to Brazil in the opener. Up next is a pivotal match against Mexico next week. Should Croatia defeat Mexico, they will advance. A draw or a loss will eliminate Niko Kovac's squad.
Cameroon was coming off a 1-0 loss to Mexico, and was also seeking its first World Cup victory since South Korea.
Cameroon now join Australia and Spain as the three countries eliminated from this year's tournament. Cameroon could have kept up the trend of come-from-behind victories, with six already during the tournament. But the Indomitable Lions were tamed by Croatia's dominate midfield and back line, and couldn't make up for the loss of Song.
Down only 1-0 at the time, Song earned his red card for striking Mandzukic in the back in the 40th minute, forcing Cameroon to play with just 10 men for the rest of the match.
Even though they were down early and didn't claim a shot on goal in the first half, the Lions superior athleticism could have made for a comeback until Song was sent off.
With Cameroon's defense rightly focused on the return of talisman Mandzukic from a one-match suspension, midfielder Olic tapped in the opening goal in the 11th minute off an assist from midfielder Perisic for the 1-0 advantage. It was the 19th goal in Olic's 93rd appearance for Croatia.
From the outset of the second half, the Croats barreled ahead past the depleted Cameroon line. Perisic quickly converted a poor goal kick by Charles Itandje into a blistering run and completed a powerful left-footed strike from a difficult angle for the 2-0 score.
Missing the opener after he was issued a red card during Croatia's playoff victory over Iceland last year, Mandzukic netted his first goal of the tournament with a direct header in front of the net off defender Danijel Pranjic's corner in the 61st minute.
In the 73rd minute, Mandzukic took the rebounded after Itandje blocked Eduardo's shot, and fired into an open net for his second goal, further demoralizing Cameroon.
Eto'o sat out due to his nagging knee injury, putting Cameroon's fate largely in the hands of forward Benjamin Moukandjo and young striker Vincent Aboubakar.
Both generated far more opportunities in the opening 10 minutes than Cameroon could muster during its loss to Mexico, yet the effort proved ill-fated with Croatia's Luka Modric deftly orchestrating his country's attacks and holding down midfield for the majority of the match.
A foot injury suffered against Brazil could have kept Modric out, but the Real Madrid midfielder didn't miss a beat, keeping the ball on a string and showing great determination in the open field throughout.
Cameroon 0 - 4 Croatia Mandzukic Goal World cup...by vranovcir
© Copyright IBTimes 2023. All rights reserved.