Video Of Lone Protester In National School Walkout Goes Viral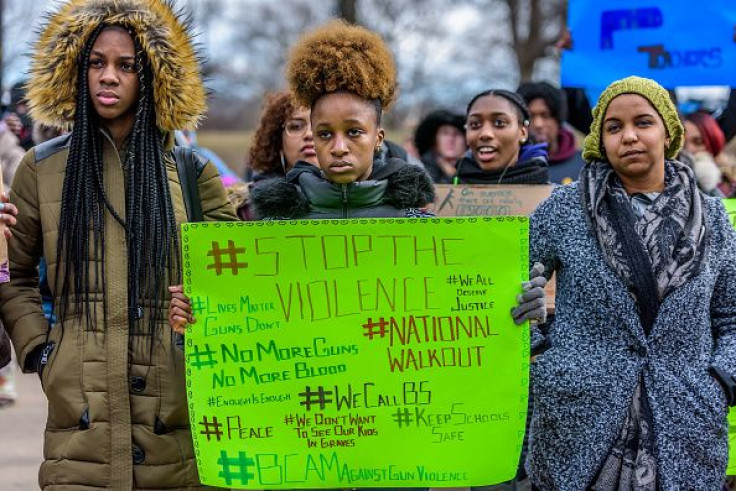 A video taken by a North Carolina teenager, capturing himself as the lone person who left his school to participate in the National School Walkout on Wednesday, has gone viral.
Justin Blackman, 16, was the only student to walk out of his school in Wilson Preparatory Academy in support of the movement. The video he filmed received widespread admiration, as prominent people streamed in with love and support for the teenager who stood up for what he believes in.
In the video tweeted by Blackman, he can be heard saying, "It's National Walkout Day, I'm the only one in my school out here. No one here but me. They didn't really get into it too much. No one really said anything."
Blackman's video received more than 5.75 million views, was retweeted 55,660 times and liked more than 277,000 times at the time of publishing the story.
The video garnered the attention of prominent personalities with actress Alyssa Milano and Chelsea Clinton, daughter of Hillary Clinton and former President Bill Clinton, tweeting their support and cheering him on.
Blackman was not penalized by his school for taking part in the student activism ignited by the survivors of the shooting that occurred at Marjory Stoneman Douglas High School in Parkland, Florida, in February. During the march, the protesters called on lawmakers to pass gun control legislation in honor of the students killed in Parkland.
However, this was not the case in other high schools where students were suspended or prevented from walking out of the classrooms Wednesday. A student from Rocky Point High School, New York, was suspended for taking part in the nationwide 17-minute walkout from class to protest gun violence.
When administrators at Mt. Diablo High School in Concord, California, locked the school gates to prevent students from protesting, a group of students broke through the gates chanting, "Enough is enough," Mercury News reported.
The march that propelled the students of the country to protest against gun violence is spreading like wildfire. The March 14 protest was just the beginning as thousands are expected to gather in Washington, D.C., for a "March for Our Lives" protest March 24, organized by the Parkland shooting survivors.
American Civil Liberties Union in New Jersey was aiding the students, by preventing schools from punishing those who chose to march out during the movement.
In a tweet, the organization said, "We're collecting stories of student discipline post-walkout in NJ. If your school has imposed disproportionate punishment for participating in today's #National Walkout Day, drop us a line."
© Copyright IBTimes 2023. All rights reserved.