VIDEO Manchester United 1-0 Liverpool: Highlights; Hernandez Volley Enough To Send United Through In Capital One Cup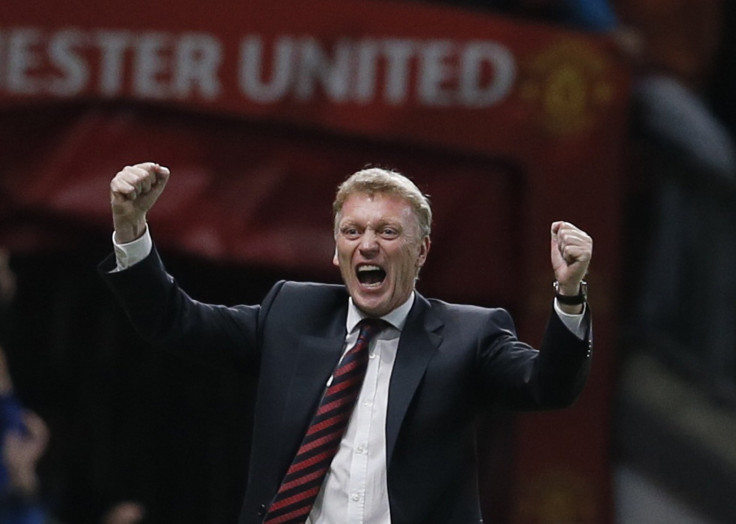 It was far from comfortable, but David Moyes will sleep a little easier tonight after Manchester United secured a 1-0 victory over Liverpool to move into the Capital One Cup fourth round. It was a match that meant much more than just progress in a competition that will have featured low down the list of priorities for both Moyes and counterpart Brendan Rodgers at the start of the season.
For Moyes it was a most welcome win over major opposition since making the biggest of step-ups to take the reins at Old Trafford. And following a 4-1 defeat to Manchester City on Sunday, it gives him some much-needed breathing room. Given the importance the match had assumed, there was some surprise that Moyes made eight changes to his starting lineup. One of the men given a rare start under his stewardship, Javier Hernandez, proved the match winner when he volleyed home a corner in the first minute of the second half.
Up to that point, the home side had been second best. And, with Liverpool also putting United under severe pressure after going behind, Rodgers will feel his side should have at least taken the contest beyond the 90 minutes. Had the returning Luis Suarez been match-sharp, they almost certainly would have done. Liverpool had plenty of the game, but their play in the final third, where Victor Moses played behind Suarez and Daniel Sturridge, was ever so slightly, and crucially, off.
United also created their chances on the break in the second half. Wayne Rooney again impressed with Shinji Kagawa and Nani offering more creative spark than Antonio Valencia and Ashley Young have provided in recent weeks, if not always an end product.
The hosts' front four was heavily involved early, as United looked like a side intent on making amends for their derby-day mauling. Liverpool's three-man defense held firm, though, with a couple of half chances for Hernandez snuffed out.
After the initial 15 minutes, Liverpool began to gain the ascendency. With Jordan Henderson and Jose Enrique getting involved coming forward down the flanks and Victor Moses linking up well with Sturridge and Suarez, United were struggling to get to grip with their opponents. It didn't help that United's passing was letting them down and inviting pressure.
Yet, Liverpool couldn't take advantage. Certainly if Suarez had been at his best then Liverpool would have gone into the interval ahead. On more than one occasion his final ball was not what was required, while his control was also crucially found wanting. When a long cross from deep by Jose Enrique traveled over the head of Jonny Evans and onto his chest his touch was too heavy and, rather than having a clear shot on goal, David de Gea was able to claim. Suarez did, though, set up Sturridge for a clear sight on goal, but the striker failed to replicate his early season form as he poked a shot wide of the near post.
Less than 60 seconds into the second half, United grabbed the vital goal as Liverpool's set-piece defending was found sorely lacking. A corner from the left cleared the head of Steven Gerrard at the near post to allow Hernandez to direct a volley into the net from inside the six-yard box. While Hernandez's typically tricky movement deserves credit, Rodgers will doubtless have more than a few words to say to his team.
The goal led Liverpool to increase their attacking intensity. Henderson had a fine chance when he side-footed wide of the goal with De Gea unmoved. But Liverpool's increased manpower going forward also left gaps for United that they came close to exploiting on the break.
Nani was at the center of things, first when hitting a shot wildly over the bar when he should have played the ball back to a better-placed Kagawa, before later striking a volley over the bar.
The crossbar was also struck at both ends as the match teetered on the balance. Kagawa rattled the woodwork first a fine left-footed effort from 20 yards. At the other end a Suarez free-kick deflected off of Jones and onto the bar.
In between times De Gea pulled off the save of the match to keep out a flying header by Moses from 10 yards. The match went end-to-end in the closing minutes. Rooney twice forced Simon Mignolet into his first real action of the 90 minutes. And, although Liverpool's pressure was intense in the dying embers, it just wasn't to be their night in front of goal -- much to Moyes's delight.
© Copyright IBTimes 2023. All rights reserved.