VIDEO Manchester United 2-0 Stoke: Highlights; Young And Evra Goals Send United Through To Capital One Cup Semifinals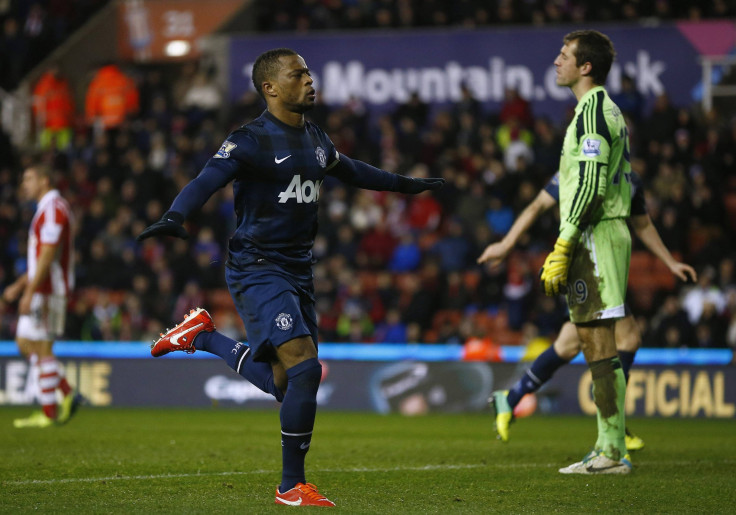 A stunning second-half strike from Ashley Young sent Manchester United on their way to a 2-0 victory over Stoke City to move into the semifinals of the Capital One Cup.
It was a game that proved to be defined by the woeful conditions at the Britannia Stadium as the players produced precious few moments of quality. The contest was even halted for five minutes in the opening half as a hailstorm arrived to complement the vicious wind that swept through a ground renowned for its inclement conditions and troubled both sets of players throughout.
It was hard to see how either team would get a goal without the need for penalties, before Young decided just past the hour mark that the best route of goal was simply to put his foot through the ball, which he did with spectacular results. With 12 minutes remaining, Patrice Evra made the result safe by curling in a rare non-headed goal for the French defender.
United controlled possession for much of the match, but failed to create any chances from open play before going in front. The conditions can bear a large part of the responsibility for that fact, although United's midfield again struggled for creativity. In the midst of a hectic schedule, David Moyes unsurprisingly made several changes to his lineup. Having recently suggested that he will listen to offers for certain players in January, it may have been that final chances were being handed to some. Of the two most likely candidates, Anderson offered little before being his withdrawal led to an improvement in United's play, while Young produced a rare positive moment in a poor season to perhaps earn himself some more time.
The only action of any note in the first half happened late on. Jonny Evans had the only real opportunity of the period when Chris Smalling headed on a corner at the near post but his fellow-defender, not helped by the wind, couldn't react quickly enough right in front of goal and the ball struck him in the midriff before bouncing harmlessly though to Thomas Sorensen.
Stoke's primary threat, unsurprisingly in the conditions, came when reverting to their traditionally direct style. Jonathan Walters came the closest for Stoke throughout, with his first opening seeing him unable to get another purchase on a header from Geoff Cameron's cross.
The second half started with equally sparse entertainment. It wasn't until Javier Hernandez replaced Anderson in the 58th minute, to provide an extra attacking threat, that United improved. Just four minutes after coming on, the Mexican played a key role in his side breaking the deadlock. Hernandez did well to hold up Young's pass into his feet 20 yards from goal and, as he looked to turn and shoot himself, the England winger surged in and let rip with a fierce strike past Sorensen.
Stoke finally began to put United under some pressure as they went in search of an equalizer. Walters may have provided it if not for the wind, but failed to make contact on a cross just six yards out after he escaped the attentions of the visitors' defense. Walters also stuck just over from 25 yards, but it was to prove an ultimately fruitless evening in the miserable conditions for Stoke.
Some terrible defending from the home side saw two players go to cover Young down the line allowing Evra to be found in space before cutting inside and curling into the far corner on his weaker right foot.
It wasn't a performance to convert his critics, although it was never likely to be a night for that, but Moyes has moved one step closer to a much-needed first trophy in his managerial career.
All Goals - Stoke City 0-2 Manchester United...by all-goals-Highlights
© Copyright IBTimes 2023. All rights reserved.