VIDEO Minnesota Riots: Facts, Coverage Of Minneapolis Under Siege After Death Of George Floyd
With protests popping up in major cities all over the U.S., the epicenter remains in Minneapolis, the city where George Floyd was allegedly killed by police officer Derek Chauvin. Even as protests continue there, however, reports indicate that the city was "quieter" on Saturday night following Gov. Tim Walz's mobilization of around 4,100 Minnesota National Guard soldiers to the Twin Cities region.
Demonstrations across the countries have escalated in recent days, with violence and looting leading to some speculation that the protests have been hijacked by bad faith parties. In contrast, city officials in Minneapolis have praised protestors there for their cooperation and peacefulness. In particular, Minnesota Department of Corrections Commissioner Paul Schnell highlighted a lack of property damage and adherence to the city's 8 p.m. curfew.
"There was a tremendous level of community support for the curfew, as hard as that is to do in an open and civil society," Schnell said during an early morning press conference on Sunday. "There have not been large issues in terms of property damage. But we also do not want to be overly confident."
In the midst of this quieter scene, Minneapolis police are currently investigating a dead man's body found in a burning car early Sunday morning. The body showed "obvious signs of trauma" and is currently being examined by the Hennepin County Medical Examiner for an exact cause of death. Authorities are hesitant to associate the situation with the city's ongoing protests, as the burning vehicle was found some distance away from them.
Prior to this escalation of National Guard presence, reports from as recent as Friday painted a much more intense picture of the protests in Minneapolis. According to the Associated Press, fires erupted at businesses and institutions in the cities south side. These included an Office Depot, a Wells Fargo location, and a Japanese restaurant. On Thursday, a disused police station was set on fire.
Shots had reportedly been fired at police Friday during the demonstrations but there have been no deaths or injuries.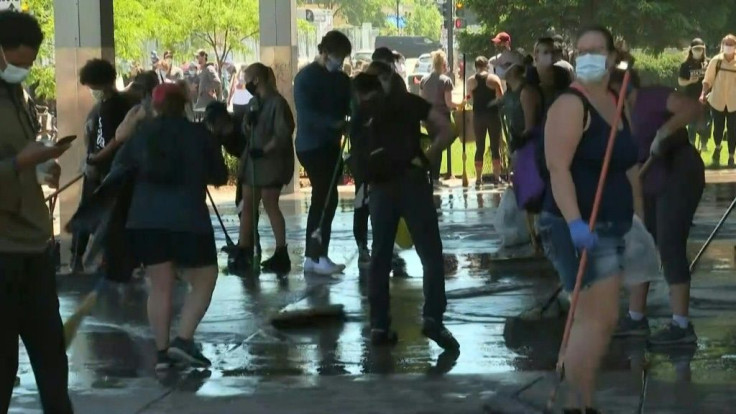 © Copyright IBTimes 2023. All rights reserved.