VIDEO: Norway Landslide Leaves 21 Missing, 700 Forced To Evacuate As Buildings Collapse
KEY POINTS
Heavy rains may be triggered the collapse
More than 700 people were evacuated from the area
The terrain reamins unstable
A landslide that buried parts of a residential area near Oslo, Norway, on Wednesday has forced the area to be evacuated, with roughly 700 people displaced amid fears of further landslides.
Norwegian broadcaster NRK reported that 21 people have not been accounted for in the village of Gjerdrum, about 15 miles northeast of Oslo. BBC News reported that 10 people were injured with no confirmed deaths. One person was transferred to a hospital with serious injuries.
"The clay masses are still unstable," the state hydrological service in Norway said in a statement. "We do not advise staying along the avalanche edges."
The government agency suggesting heavy rains mixed with the clay loosened the terrain's structure and caused the collapse unexpectedly.
"However, it is important to observe changes in the terrain and report these to the municipality," the agency stated. "This applies in particular to observations such as fractures and landslides."
NRK reported that the number of missing was revised lower, from 26 to 21. The head of a police task force declined to speculate if those five people were alive or dead.
From her Twitter account, Norwegian Prime Minister Erna Solberg expressed sympathy for those affected by the disaster.
"It hurts to see how the forces of nature have ravaged Gjerdrum," she said. "Now it is important that the emergency services get their job done."
Several homes have been destroyed and emergency services continue to work on stabilizing structures left standing.
Solberg confirmed that the village of roughly 1,000 people had experienced one of Norway's largest landslides. BBC News estimated the collapsed area covers about 52 acres.
In June, a landslide in the Arctic north of Norway swept eight houses out to sea.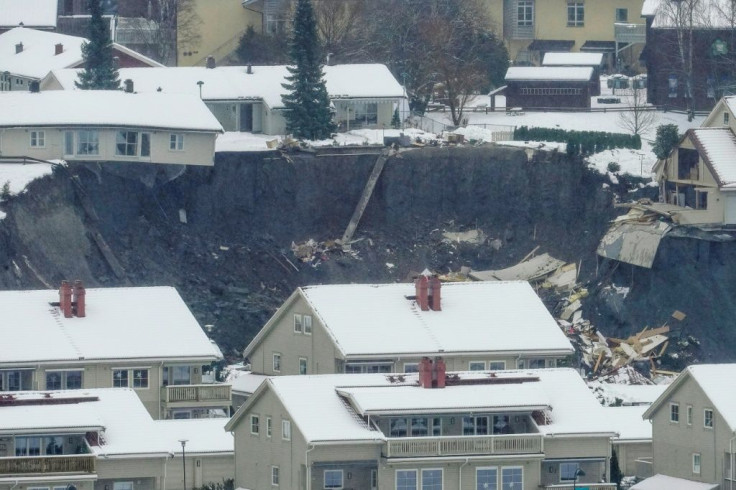 © Copyright IBTimes 2023. All rights reserved.