VIDEO Novak Djokovic Avoids Wimbledon 2015 Upset To Kevin Anderson; Highlights Of Fourth Round Match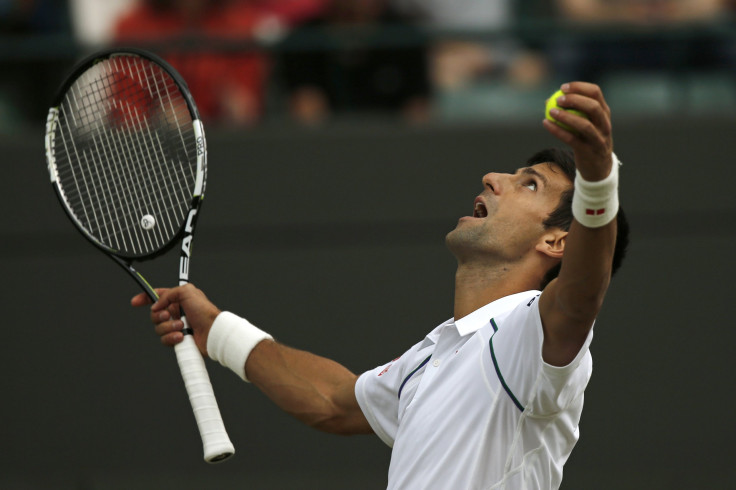 Novak Djokovic survived a near-upset on Tuesday at Wimbledon 2015, defeating Kevin Anderson in five sets to advance to the quarterfinals. Anderson won the first two sets on Monday, and Djokovic took the next two sets, before play was suspended because of darkness.
Djokovic barely escaped his match with Anderson, winning 6-7 (6) 6-7 (6) 6-1 6-4 7-5. Anderson gave Djokovic his toughest test at Wimbledon, by far. The No.1 player in the world hadn't lost a set in the entire tournament until he reached the final 16, and Anderson took him to the brink of elimination.
Anderson looked to seize control of the final set when the match resumed on Tuesday, winning two of the first three games. But at 5-5, Djokovic showed why he is the best player in the sport, winning the next two games and the match. Anderson still has never reached the quarterfinals of a Grand Slam, losing all six times he's made it to the fourth round.
"This was one of the most difficult matches I've played at Wimbledon, maybe in my career," Djokovic said. "I congratulate Kevin for a great effort. It wouldn't be undeserved if he would win this match."
Djokovic will face Marin Cilic in the quarterfinals, against whom he's been dominant, winning all 12 of their head-to-head-matches. It's the 25th straight time that Djokovic has advanced to the quarterfinals of a Grand Slam tournament, giving him the third-longest streak ever in the Open Era.
© Copyright IBTimes 2023. All rights reserved.