VIDEO: President Trump Filmed On Golf Course, Boasts About His Game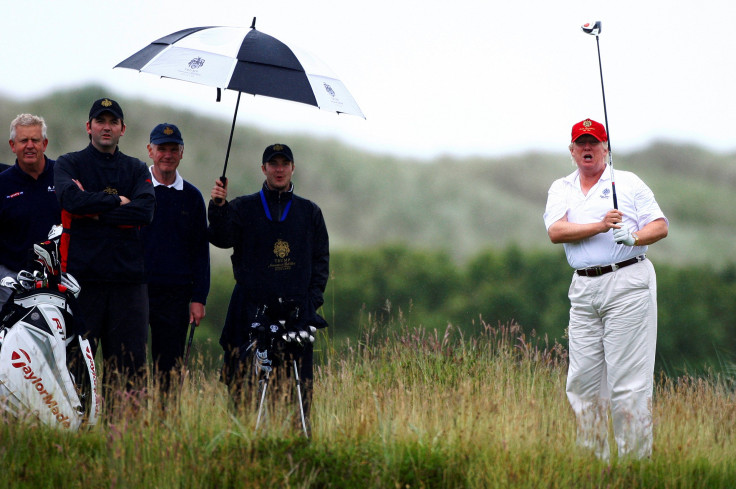 A new video posted on Instagram Saturday showed President Donald Trump playing golf at his club in Washington D.C. and boasting about his skills to the photographer behind the camera.
"You didn't know Trump could hit two shots like that," Trump is heard saying to the photographer.
Gov. Chris Christie is also seen riding in the motorcade with the president, in the video.
Trump has been known to make almost regular visits to his golf clubs. Trump and Sen. Lindsey Graham, R-S.C., went golfing again for the second time this week on Saturday.
Trump's trip Saturday marked the fifth consecutive weekend that he has visited one of his properties and the 72nd day at one of his own golf properties since taking office in January, according to an NBC News tracker.
White House pool reports cited by the Washington Examiner Saturday said that Graham and Trump had been spotted entering a limo together at the White House. The presidential motorcade was said to have headed to Trump National Golf Club in Sterling, Virginia.
The White House later confirmed the news that the two would be playing golf. "The President will be golfing with Sen. Graham today," said White House deputy press secretary Lindsay Walters, according to Fox News.
Graham and Trump previously golfed together on Monday, which was the Columbus Day holiday. Graham said later that Trump shot a 73 during their round of golf, joking that he "did better in the presidential race" against Trump than on the golf course.
"Donald Trump on the golf course is a very charming, gracious man. Very funny. Very competitive, but gracious. When you host somebody, you want them to have a good time," Graham said referring to their game on Monday, according to the Hill.
Before leaving for his golf club Saturday to play a round with Graham, he took to Twitter to say he was "very proud" of his executive order on health care this week. Trump also claimed that health insurance stocks "plunged" after he announced his decision to end key ObamaCare payments.
© Copyright IBTimes 2023. All rights reserved.