Video Shows Tommy Lee Leaving Bathroom With Girlfriend On American Airlines Flight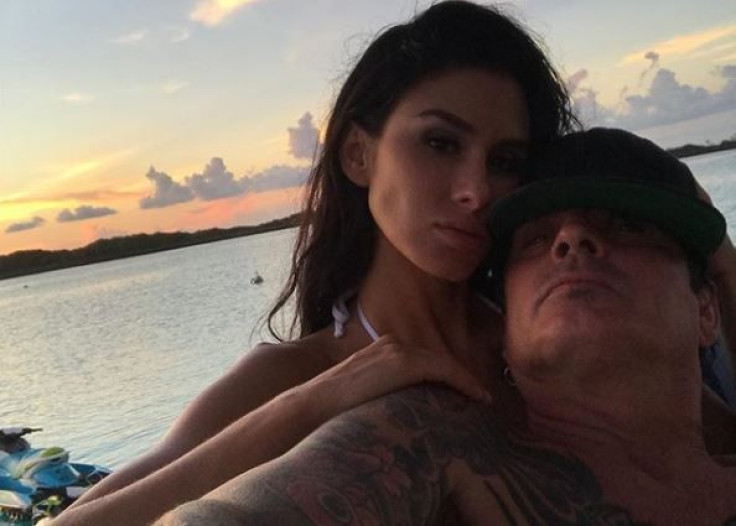 Video of Mötley Crüe drummer Tommy Lee, 54, exiting a bathroom within moments of his girlfriend Brittany Furlan, 30, aboard an American Airlines flight appears to have surfaced online. The Miami-bound flight from Nassau, Bahamas, was only 65 minutes in total. But according to passengers, the couple was in the lavatory for as many as 20 minutes before exiting.
READ: Video Of Couple Having Sex On Ibiza-Bound Flight Goes Viral
The video — which was first published by TMZ — appeared to have been taken by a fellow passenger who trained the camera on the lavatory door as Lee exited the bathroom. Approximately 25 seconds later, Furlan exited the same bathroom. Airline staff outside the lavatory did not appear to notice that two adults had exited the same bathroom within moments of each other.
TMZ reported separately Saturday that "there were no complaints filed with the company" and that it's not against American Airlines policy for two people to occupy the same bathroom. Reached by the gossip site for comment, the airline had no official statement.
"Our sources say typically, when [two] people use the same bathroom, it's the elderly or someone who needs medical assistance," TMZ reported, "but Tommy and Brittany both appeared to be in good health."
READ: Naked Models Pose As Flight Attendants In 'Disgusting' Ad Promoting Travel Site
It was not immediately clear on which day the incident occurred, though Furlan tweeted Friday that American Airlines was responsible for losing the couple's luggage.
"I just took a 45 min flight from the Bahamas to Miami and @AmericanAir lost our luggage in that short amount of time," the former Vine star wrote to her 387,000 followers on Twitter. "BUYER BEWARE."
Stories of similar incidents aboard flights have made headlines in recent months. Earlier this year, a woman and man were filmed engaging in a sexual act aboard a flight from Manchester to Ibiza, though the woman later maintained it was only a "lapdance." A separate incident aboard a Southwest Airlines flight over the weekend led authorities to question a couple who were reportedly "all over each other" and were asked by flight crew to stop the lewd behavior.
Neither Furlan nor Lee appeared to address the video publicly as of Monday, though Furlan did use Twitter to write about the budding relationship Sunday. Replying to a tweet that called their coupledom "the weirdest thing ever," Furlan wrote, "Nothing to be confused about bb, we're very happy."
Furlan and Lee have been vacationing in the Bahamas for the last week, with Furlan sharing a series of photos from the trip to her Instagram account. The first image shared to social media was dated August 13. Rumors of a possible relationship between the former social media darling and the Mötley Crüe member surfaced earlier this summer.
Representatives for Lee and Furlan did not immediately return International Business Times' request for comment.
© Copyright IBTimes 2023. All rights reserved.