VIDEO 'SNL' Skits From Last Night: Jack Harlow Hosts, Sketchers Skit Pokes Fun At Kanye West
"Saturday Night Live" returned on Oct. 29 as Jack Harlow hosted and performed as the musical guest. He showed off his acting skills ahead of the premiere of his first movie, "White Men Can't Jump."
Harlow was also joined by surprise guests Tom Hanks, Survivor's Jeff Probst, and ex-SNL cast member Bobby Moynihan.
Here are some notable moments from the fourth episode of "Saturday Night Live" Season 48.
The Cold Open
The episode began with a parody of the "PBS News Hour," with cast member Heidi Gardner as lead anchor Judy Woodruff interviewing Republican candidates gaining momentum in their midterm senatorial races. Veteran SNL cast member Cecily Strong appeared as Arizona Republican candidate Kari Lake, who said that "Arizonans want to talk about the issues that affect them, like crime in New York or crime in Detroit."
Kenan Thompson's Herschel Walker rambled along when he said "there are babies in school identifying as Pokemon." Mikey Day played Dr. Oz, who seemingly knew nothing about his home state Pennsylvania, and noted that, "You can win this election if you're honest, if you're fair, and if your opponent has a debilitating medical emergency.'"
Jack Harlow Monologue
Harlow ran through his big year. "I put out a second album, went on a world tour, and just shot my first movie 'White Men Can't Jump.'" Harlow also made fun of himself while explaining how everyone roasts him on social media. He shared that his favorite was when someone tweeted him "you look like someone who tried to draw Justin Timberlake from memory."
Harlow also said hello to his mother, father, and grandparents, who were in the audience.
Digital Short
One of the night's top sketches was the digital short featuring a PSA from Skechers addressing Kanye West's arrival in their offices last Wednesday.
Strong points out: "Could you have said two years ago that Skechers could turn Kanye away?" Bowen Yang comments, "Skechers denied [Kanye] faster than Adidas."
Weekend Update
Anchors Colin Jost and Michael Che gave a rundown of the week's biggest news stories. Jost began by discussing Elon Musk's Twitter takeover and noted that the next highest offer after $44 billion was zero dollars.
Che noted the Walker abortion scandal and quoted Walker after he was accused by another woman. "'I'm done with this foolishness'" -- which is also what Walker says when he takes off the condom."
Amid the antisemitism controversies surrounding Kanye West, Che noted that the musician has been dropped from Bar Mitzvah playlists.
Moynihan made a surprise appearance at the news desk, reprising his famous character "drunk uncle." In the character's famous drunk uncle slur, he shouts, "Tom was too good for Giselle."
David S. Pumpkins Reprised!
Finally, the episode ended by reprising one of SNL's most beloved characters, David S. Pumpkins, with a full-cast reunion featuring Tom Hanks, Bobby Moynihan, and Mikey Day. David S. Pumpkins is "the least scary haunted ride character of all time." When Hanks first appears, he says in between raucous live audience laughter, "I'm David S. Pumpkins, and I am going to scare you stupid."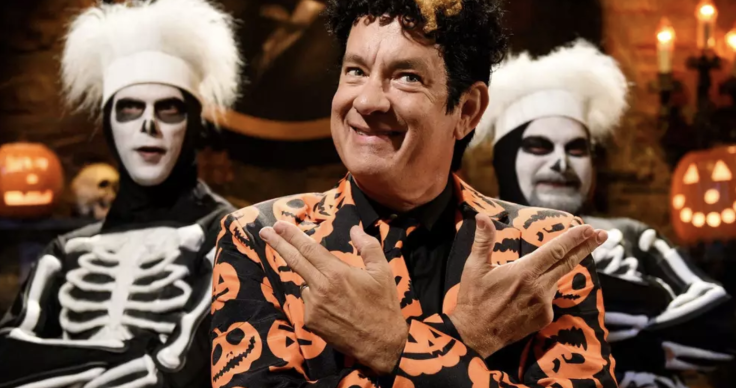 Amy Schumer will serve as host, and Steve Lacey will be the musical guest on the next episode of "Saturday Night Live," which will air on Nov. 5 on NBC.
© Copyright IBTimes 2023. All rights reserved.
FOLLOW MORE IBT NEWS ON THE BELOW CHANNELS