VIDEO Uruguay 1-0 Italy: Highlights; Godin Goal Sends La Celeste Through And The Azzurri Home [World Cup 2014]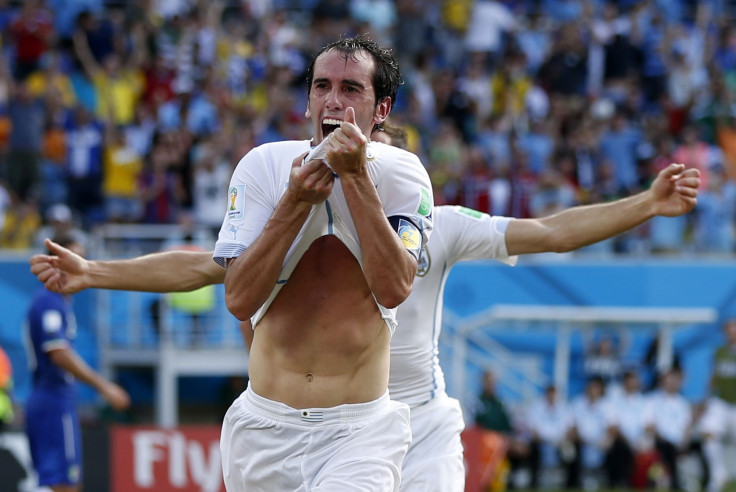 Diego Godin scored a dramatic late winner to send Uruguay into the last 16 of the World Cup at Italy's expense in a game marred by controversy.
In a make-or-break match to decide who joined surprise package Costa Rica in advancing out of Group D, Uruguay needed all three points while Italy could afford to take just one. After a first-half of desperately little action, a tetchy game sparked into life just before the hour mark when Claudio Marchisio was shown a red card for a high challenge on Arevalo Rios. Then 20 minutes later came the moment for which this contest will sadly forever be remembered.
Luis Suarez, who just four days earlier returned from injury to score both goals in Uruguay's 2-1 win over England, made the latest and perhaps biggest stain in his already tainted resume. Challenging for the ball with rugged Italy defender Giorgio Chiellini, Suarez appeared to bite into his opponent's shoulder. The referee appeared not to see it, and Chiellini was incensed. Just two minutes later his team were behind. Godin, who had scored the goal that won Atletico Madrid the Spanish league title and that put them ahead in the Champions League final, produced another towering header from which Italy had no response.
After losing their opening game so insipidly, 3-1 to Costa Rica, it has been a typical battling response by Uruguay to keep their World Cup alive. But their hopes of replicating a semifinal berth achieved in South Africa four years ago have now surely be greatly hampered by Suarez's latest indiscretion. While he didn't face any punishment in the match, he surely will do once video evidence is inspected. It would be a major surprise were the Liverpool striker to be seen in action again in this World Cup.
Italy, meanwhile, despite much positivity from their win over England to begin the World Cup, have now exited at the group stage for the second straight time since they lifted the trophy in 2006. They will do so this time with a heavy sense of what might have been, with Cesare Prandelli's team appearing well in control of the match and under little threat until Marchisio was shown his marching orders. That, though, did not prevent Prandelli from offering his resignation shortly after the final whistle.
For much of the match it would have been impossible to tell that Uruguay needed a win in order to go through. The first half was remarkable for its lack of urgency. Italy, as expected switched to a 5-3-2, more surprisingly was Uruguay's decision to follow suit.
Italy had bought Marco Verratti back into midfield and it was clear that their approach was to control the game through the possession given them by the presence of the Paris Saint-Germain youngster alongside Andrea Pirlo. While Edinson Cavani worked hard dropping back into midfield, Prandelli's tactics largely worked exactly to plan.
Perhaps with the heat in Natal playing its part in the pedestrian pace of the match, Uruguay were far too passive. The only time they created anything of note in the first 45 minutes was when Suarez combined well with Nicolas Lodeiro on the edge of the box but saw his effort form a tight angle repelled by Gianluigi Buffon.
At half-time, Prandelli decided to remove his fiery striker Mario Balotelli after a disappointing performance in which he had already picked up a yellow card and, under repeated niggling from Uruguay's players, looked primed to get another. Parma's Marco Parolo came on and Italy's midfield was strengthened yet further.
The pattern of the match remained the same before Uruguay created their first clear chance of the contest. Cristian Rodriguez ran onto Suarez's delightful chipped return pass in the box, but the Atletico Madrid midfielder's finish was woefully wide of the target. Still, just seconds later Uruguay were given a major boost in their efforts to find a winner.
Marchisio overran the ball in the Uruguay half and in trying to retrieve it went in with his studs showing into the shin of Rios. There was little force behind it, but, if no intent, there was certainly recklessness.
Minutes after going a man down, Italy were hugely grateful to their captain for not going a goal down. Suarez got through the Italian defense and looked poised to score before his firm low shot was spectacularly repelled by the right wrist of Buffon.
Perhaps frustrated by he and his teammates continued failed attempts to get a breakthrough, Suarez then committed his most visible indiscretion yet in his career. The teams should have been down to 10 men apiece. Instead, Uruguay were soon a goal to the good. Substitute Gaston Ramirez sent in a corner from the right, Godin, who was a rock at the heart of Uruguay's defense throughout, rose highest six yards out and sent a powerful header past Buffon.
With all three substitutions made and Antonio Cassano as their only attacking player now on the pitch, Italy had no answer. Uruguay had progressed in a game in which the quality of the football made it easy to forget, but which Suarez ensured will long be remembered.
<script src="http://player.espn.com/player.js?pcode=B4a3E63GKeEtO92XK7NI067ak980&width=576&height=324&externalId=intl:1909142"></script>
© Copyright IBTimes 2023. All rights reserved.