VIDEO Uruguay 2-1 England: Highlights, Goals; Suarez Returns To Sink England, Despite Rooney Strike [World Cup 2014]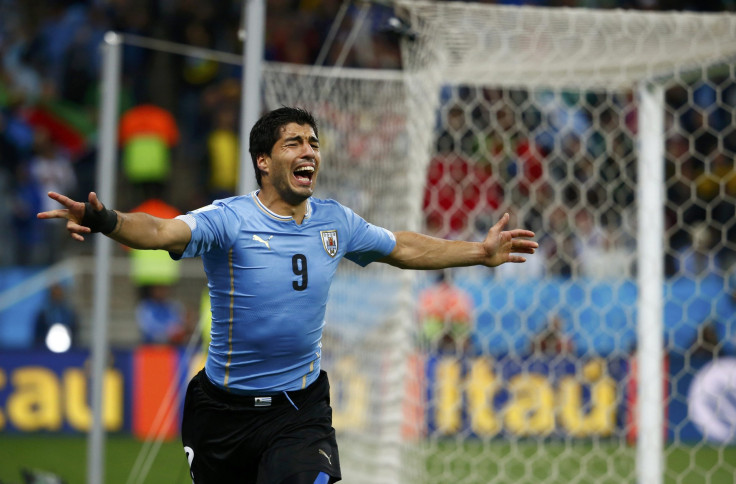 Luis Suarez made an astonishing return from injury to revive Uruguay's World Cup hopes and all-but condemn England's to ashes with both goals in a 2-1 win in Sao Paulo. A dramatic 84th minute winner from Suarez gives Uruguay a fine chance of reaching the last-16, while it leaves England counting on hugely favorable results elsewhere.
Less than 10 minutes earlier, it appeared that this would finally be Wayne Rooney's day at a World Cup. After eight years, 10 matches and countless near-misses, the England forward broke his duck on the biggest stage by pouncing from close range to drag England level in what was close to a make-or-break match for both teams after opening defeats.
Instead, the day emphatically belonged to Suarez. Just five days ago, Uruguay were dismal in a 3-1 defeat to Costa Rica in their opening game while Suarez watched on helpless form the sidelines a little over a month after knee surgery. He was back from the start, though, against the country in whose domestic league he illuminated for the past season. He was a long way short of his best, clearly not close to full fitness, yet it was he who provided the game's defining moments.
Indeed, the two genuine moments of quality in a contest that was high on tension but often low on quality belonged to him. The first came after a swift Uruguay break, a perfect floated ball from Edinson Cavani and a clinical header from Suarez. Earlier Rooney had failed to be as decisive from even closer range when heading onto the crossbar from barely a yard out. Rooney's moment to answer the critics that have rounded on him both before and during the tournament was to come in the second half, but cruelly it would ultimately count for nothing.
It would be one of the very few players who knows even more than Rooney what it's like to be subject o unwanted scrutiny from the English media who had the last word. With six minutes remaining, Suarez's Liverpool teammate Steven Gerrard inadvertently flicked the ball on to allow Uruguay's key man to collect the ball behind a dozing England defense before lashing a fierce drive past Joe Hart.
Unless England beat Costa Rica in their final game and Italy beat both Costa Rica on Friday and then Uruguay, they will be heading out at the of the group stage of a World Cup for the first time in nearly 50 years. In many ways that would be a harsh legacy to ascribe to Roy Hodgson's side. Certainly the performance in defeat to Italy last week contained as much promise as arguably any by an England side in a major tournament in a decade, Ultimately, though, despite the positivity provided by the emergence of vibrant young players, England were undone by uncharacteristic naivety from a manager previously derided as overly pragmatic and a defense that simply wasn't up to examination at the top level.
Hodgson's Uruguayan counterpart Oscar Washington Tabarez had made five changes to his team that lost so emphatically to Costa Rica, only two of them forced. Suarez was of course to prove the key man. But the choice to rejig the shape of his side proved a shrewd one and helped Uruguay to capitalize on England again being undermanned in that area with just Gerrard and Jordan Henderson.
That vulnerability was all too evident to allow Uruguay to take the lead six minutes before half-time. After his infamous slip to against Chelsea to help cost Liverpool the Premier League title, came another, arguably worse, costly giveaway in the midfield. Not only did England's captain give the ball straight to Nicolas Lodeiro in the center circle but he then allowed the attacking midfielder to all-too easily breeze past him in to wide open space. Cavani was then played in to an equally cavernous hole on the left, before his dinked pass was headed in by Suarez.
England's only complaint about being behind was that Uruguay defender Diego Godin should have received a second yellow card early on for a cynical foul. But England showed little of the composure on the ball that they had impressed with against Italy. It was all too frantic and ragged. And Uruguay should have capitalized at the start of the second half. Suarez dragged a shot wide from the edge of the area, while Cavani missed a glorious opportunity when shooting wide from the corner of the six-yard box.
Finally England began to put some pressure on the Uruguay back line. Leighton Baines getting forward more was key. From the left-back's cross Rooney should have equalized earlier than he did but his effort lacked direction and was denied spectacularly by Fernando Muslera. When he did get on the score sheet minutes later, following excellent work from Glen Johnson down the right, the relief was evident. And initially it appeared that it might be the catalyst for England to go on and claim a vital win.
But England were caught out focusing too much on looking forward rather than considering the risks of relinquishing what they had just worked so hard to claw back. Suarez had been allowed to run in behind England's advanced back line and his finish was emphatic as his message to all those who have criticized him back in England.
<script src="http://player.espn.com/player.js?pcode=B4a3E63GKeEtO92XK7NI067ak980&width=576&height=324&externalId=intl:1895306"></script>
Suarez Goal Uruguay vs England 1 -0 World Cup...by edi-qrz11
Uruguay 1 - 1 England W. Rooneyby f100000575791389
Uruguay 2 - 1 England L. Suárez by f100000575791389
© Copyright IBTimes 2023. All rights reserved.