'The View' Co-Host Meghan McCain Claps Back At Report Saying Fans Aren't Excited For Her Return
KEY POINTS
Meghan McCain reacted to a report claiming "The View" fans are not excited to see her on the show
"The View" co-host said women are being punished for being tough and opinionated
McCain will return on "The View" on Sept. 8
Meghan McCain fired back at a report claiming that some of the viewers of "The View" aren't enthusiastic about her return by calling the report out for being an example of setting up a toxic culture for women.
On Monday, McCain called out a headline from CheatSheet that claimed fans were not "excited" to see her back on the talk show next week on Instagram. The original headline read, "'The View' Sets Return Date, Fans Excited for Comeback but Not for Meghan McCain." It has since been changed to read, "Some Fans React Strong To Meghan McCain's Return." The report included some tweets from those who are not a fan of McCain.
"The View" co-host said she doesn't normally "comment on garbage written" but felt the need to do so because it's an "example why our culture is so deeply toxic for women."
"No man would EVER have this kind of a headline written who cohosts the #1 talk show in America that just won an Emmy for best show," she wrote.
"Do better, be better, lift women up instead of tearing strong ones down. We are punished for being tough, opinionated and not backing down while men are celebrated for it."
McCain also related her post to why there is still no female U.S. president. She stressed how the country raises strong, independent, smart and empowered women but would turn around them and punish them once they do tough things. And this is because many want women to be warmer, softer and more likable, according to the television personality.
McCain stressed that her rant wasn't just about her but for the other women in the industry. Instead of tearing women apart, she encouraged the people to "celebrate women with differences of opinions and guts and grit."
She added that she loves the audience of "The View" as they were kind to her even if there were times when they disagreed with her political opinions. Also, she has no plans to change her approach on the show. She will speak her mind because she believes that women should use their voice more and speak louder.
"I know this is a soapbox rant but forgive me the world is on fire, I am 8 months pregnant and like most Americans am heartbroken at the state of our country," she added before concluding the post by writing, "I will see you back on the show the 8th."
Several followers poured McCain's post with love and support. Justin Anderson said he is a big fan of McCain and would not watch the show without her. Meanwhile, Mary Katharine Hamm said she's already excited for McCain's return.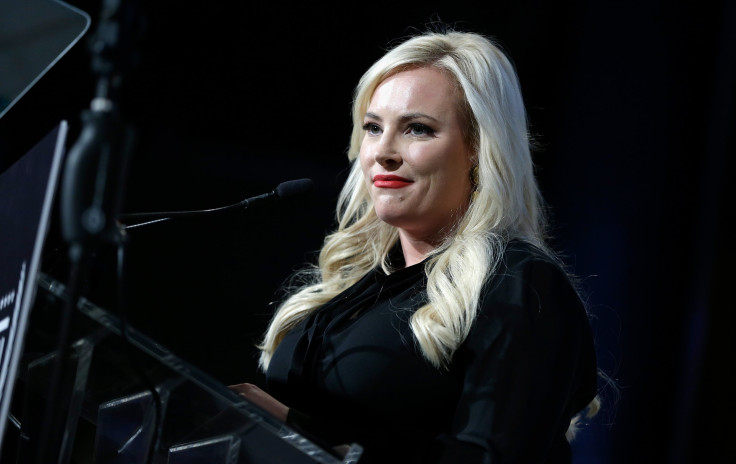 © Copyright IBTimes 2023. All rights reserved.