Violent Monks? Hardline Buddhist Nationalists Targeting Muslim Minorities In Sri Lanka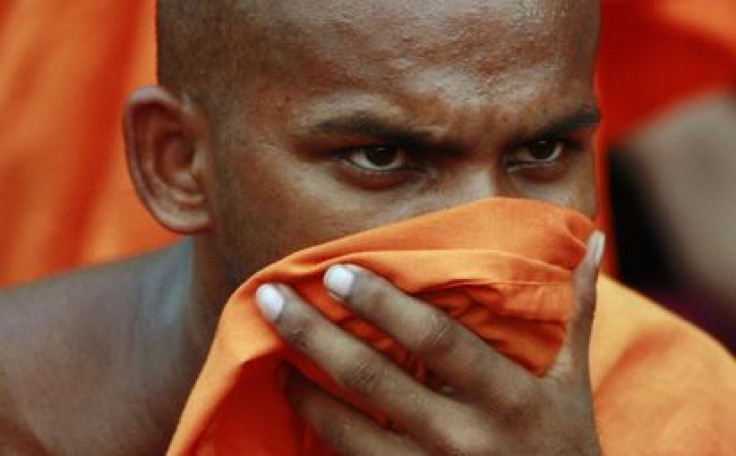 Sectarian violence on the island nation of Sri Lanka again threatens to tear the country's fragile fabric apart.
Government commando forces have stepped up security around Muslim-owned businesses and homes around the nation after a mob of hundreds of Buddhist extremists set fire to a clothing store and warehouse in Pepiliyana, a suburb of the capital of Colombo, on Thursday.
The crowd also smashed vehicles and pelted stones before an army unit was called in to disperse the rioters. No arrests were made, however.
The attack injured at least five people, including journalists seeking to cover the event, and appears to reflect the continuing hostility directed at minority Muslims from hard-line members of Sri Lanka's Sinhalese Buddhist majority.
Muslims account for about 10 percent of Sri Lanka's population.
"We are deploying more mobile patrols in vulnerable [Muslim] areas [across Sri Lanka]," a senior police officer told the Agence France- Presse news agency.
The Muslim Council of Sri Lanka warned that Thursday's disturbances pushed religious and ethnic tensions to the island to a new high.
"It has created a fear psychosis among the Muslims," N.M. Ameen, the council president, told AFP. "[But] we know a majority of the [Buddhist] people do not support this type of activity."
Indeed, one of Sri Lanka's most vocal and prominent Buddhist nationalist group, the Bodhu Bala Sena, or BBS, which means "Buddhist Force," denied they were involved in the latest altercations.
"We condemn this attack in the strongest terms," BBS spokesman Galaboda Aththe Gnanasara told reporters in Colombo.
But BBS has a history of making inflammatory remarks against Muslims, having already forced Islamic clerics to withdraw halal certification on local foods, citing that it "offends" non-Muslims.
BBS officials have also claimed that Muslim students receive favorable treatment in schools and are carrying out illegal practices related to the slaughter of livestock. Some nationalist Buddhist monks also accuse Muslims of constructing too many mosques, seeking to forcibly convert Buddhists to Islam and of having too many children in order to increase their influence in society.
Akmeemana Dayarathana, founder of another ultra-nationalist Buddhist group, Sinhala Echo, said that Muslims have a history of destroying Buddhist communities and cultures across South and East Asia.
"[Sri Lanka] is the only country for the Sinhalese," he told BBC. "Look around the world -- Malaysia, Indonesia, Pakistan, Afghanistan and others -- they were all Buddhist countries, but the Muslims destroyed the culture and then took over the country. We worry they're planning it here too."
The violence in Pepiliyana echoed an incident from January, when another Buddhist mob threw stones at a Muslim-owned clothing store outside Colombo, while other Buddhists have called for a boycott of Muslim businesses.
Over the past year, a number of mosques have been attacked, vandalized and defaced.
An extraordinary facet of these attacks is that they are often led by robe-wearing Buddhist monks.
Sri Lanka has already endured a devastating multidecade civil war that pitted the majority Sinhalese Buddhists against a group of separatist ethnic Tamils, who are Hindu. The Tamils were brutally crushed by the army in the final stages of that civil war.
Muslims generally stayed out of that conflict, maintaining a low profile, although they suffered many casualties.
Now, fearing a renewed wave of violence, the government's Minister for Justice Rauff Hakeem (a Muslim) has asked Prime Minister D. M. Jayaratne to call a cabinet meeting to discuss security issues and the vulnerability of Muslims in the country.
Colombo police have also established a phone hotline for people to complain about anyone seeking to "incite religious or racial hatred."
Some analysts believe that extremist Sinhalese Buddhists, fresh off their defeat and demoralization of Tamil Hindus, are now targeting another visible minority -- the Muslims.
"The country is seen today as Sinhala Buddhist," said Sanjana Hattotuwa, editor of groundviews.org, a journalism website.
"The end of the [Sinhalese vs. Tamil civil] war ironically has given the space for new social fault lines to occur."
Hattotuwa's organization has cited that in the early 1980s Buddhists committed a type of pogrom against Hindu Tamils, which eventually precipitated a multidecade civil war. Now they fear the government (dominated by Sinhalese Buddhists) is not doing enough to prevent another potential conflagration.
"The vandalism of mosques around the country are ominous signs," an editorial in Groundviews states. "The inaction by the authorities, and in some case the support of the organization by members of the government, is paving the way for further racism.
"For a nation that prides itself on being 'multinational,' such racist sentiment will only serve to damage its future. Nationalistic ideals fueled by racism cost the country 30 years [in the civil war]; unfortunately, four years on from the end of the last conflict, Sri Lanka appears to be headed down the same path."
© Copyright IBTimes 2023. All rights reserved.