Vladimir Putin To Play Hockey Against Philadelphia Flyers Alumni? Retired NHL Players, Russian President Could Face Off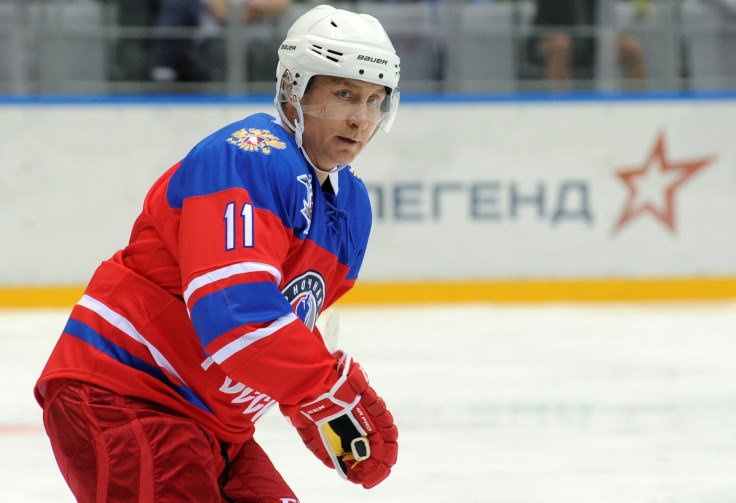 Russian President Vladimir Putin may lace up his skates and compete against former Philadelphia Flyers in an upcoming exhibition hockey game, the Courier-Post reports.
A team of former Flyers are set to play a series of three games in Russia, starting in Kazan of Feb 16., Saint Petersburg on Feb. 18 and finally in Moscow's Red Square on Feb. 20. It's rumored Putin, a well-known hockey fanatic, wants to participate in one of the games.
Former Flyers defenseman Joe Watson, who organized the trip and got the squad together, said Putin "wants to play against us," but that the president's schedule isn't released until the last second.
Putin played against former NHL players in 2015 and scored eight goals, perhaps benefiting from some light defending. Watson wouldn't promise similar treatment should Putin show up to play the Flyers.
"I don't know about that," Watson told the Courier-Post. "He'll have to earn it from us as far as we're concerned. We may be stuck in Siberia, but what the hell? We'll have a good time."
There's a history between Russia and the Flyers, who beat a seemingly unstoppable Soviet Union team in 1976, four years before the infamous "Miracle on Ice" at the 1980 Winter Olympics in Lake Placid, New York. The Flyers were known as a bruising team and the Soviets briefly threatened to leave the Philadelphia arena after one of their players was hit with a hard check.
Putin has long attempted to portray himself doing so-called "manly activities," so a playing against the Flyers — who still have name recognition in Russia — would seemingly make some sense. Putin took to the ice with Russia's Night Hockey League Stars team in May and made headlines for an embarrassing moment. The Russian president took an awkward tumble away from the action, slowly falling to the ice and landing on his side.
© Copyright IBTimes 2023. All rights reserved.