'The Voice' Season 8 Spoilers: The Top 8 Perform In An All Star Battle Of The Coaches [RECAP]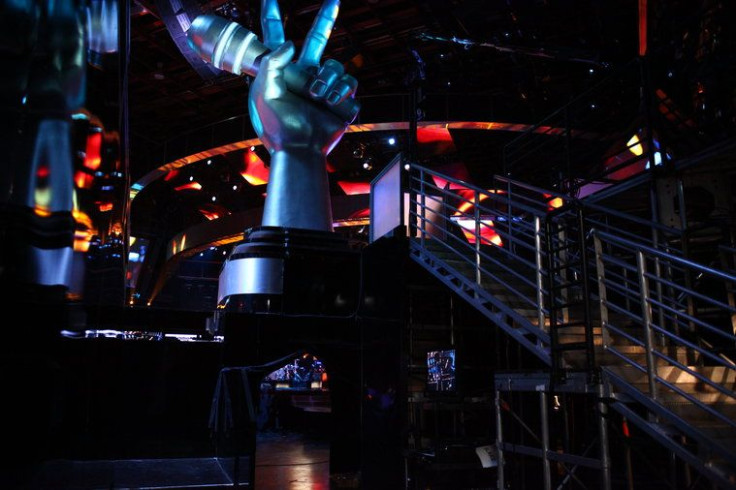 "The Voice" top 8 round is typically a time for the performers to go hard or go home, and Season 8 was no exception. As a slew of former coaches returned to the grand stage, the remaining artists sang their hearts out to stay alive another week.
Tonight, returning guest judges Gwen Stefani, Usher and Cee Lo Green joined coaches Pharrell Williams, Adam Levine, Blake Shelton and Christina Aguilera. Together they coached the remaining eight contestants through a series of artist-defining performances. Shakira was supposed to join the docket as well, but was forced to stay in Barcelona with her new baby.
With two hours of screen time and only eight performances to go, each one had to do a lot to stick in the viewer's memory – and they knew it. Below is a rundown of how each of the top 8 performers did during tonight's performance rounds.
Hannah Kirby (Team Blake)
Song: "We Don't Need Another Hero" by Tina Turner
Kirby began the night with the help of Cee Lo Green, who immediately recognized her propensity for trying to put on a really big show every time she takes the stage. Rather than reel her in, the veteran performer suggested leaning into what makes her unique and put on an incredibly theatrical top 8 performance. It started out pretty conservatively for Kirby; she didn't even do her trademark crazy dancing. That is until she pulled a rabbit out of her hat in the form of a children's choir to help her close out her time. That's when the Kirby we know and love was unleashed and opened the night with a colossal showstopper.
Joshua Davis (Team Adam)
Song: "Fields Of Gold" by Sting
Kirby was a tough act to follow and Joshua Davis may not have been the one to do it. He's put on a series of solid performances that's propelled him this far in the competition, but at this point it's hard not to notice that he's yet to really innovate. Sure, he made a slight attempt last week but, as Shelton noted, it wasn't the best deviation from his normal routine. He covered the Sting song with the same childlike enthusiasm and smooth voice that we've come to expect from Levine's last team member. However, at this point in the competition we have to wonder – is it enough?
Kimberly Nichole (Team Xtina)
Song: "Creep" by Radiohead
Nichole's coaches Aguilera and Stefani wanted her to really connect and have an emotional moment with a song. She's proven time and again that she's this season's resident diva with her ability to bring the house down using only her attitude. However, she'd yet to demonstrate that she could really connect with a variety of songs and wasn't just a one-trick pony. When she sang the jazzy version of the dark Radiohead hit, it was everything we've come to expect from her – but it wasn't emotional. She found a way to get there by the end of the song, falling to her knees to deliver the last lyric, "I don't belong here." Obviously the line was dripping with irony as her vocals make her a front-runner to take it all this year, but her performance was more of a stage show than an actual emotional connection. Having said that, it was still one of the best of the night.
Meghan Linsey (Team Blake)
Song: "Something" by The Beatles
Linsey normally does peppier songs to show off her years of experience handling a stage and live audience. While those elements weren't necessarily missing from her performance tonight, they weren't as front and center as they normally are. She decided to enter the final rounds by letting her voice do all the heavy lifting. The Beatles hit was perfect for her in this case because it allowed her to keep things slow and manage her vocals with laser accuracy. A performer who's been consistently innovative and good, it's hard not to picture her keeping the momentum going all the way to the finale.
India Carney (Team Xtina)
Song: "Somewhere Over The Rainbow" by Israel Kamakawiwo'ole
Carney has been a powerhouse vocalist in this competition. In a night when everyone was leaning heavily on stage theatrics to help pep up their performance, Carney used a fake meadow and elegant dress to allow her to focus on her vocals alone. Her performance was genuine and her ability to hold the notes long enough to keep the audience leaning forward for more was truly masterful. She's always been a front-runner in this competition but her Glinda The Good Witch set dressing tonight painted her in an entirely new light. With unparalleled class, it's up to America to either recognize her potential or cut her loose.
Sawyer Fredericks
Song: "Simple Man" by Lynyrd Skynyrd
Sawyer Fredericks is perhaps the biggest enigma on the competition. Not only is he the youngest performer of Season 8 at just 16 years old, his ability to rub his raw voice on some classic songs and make them feel new is unimaginable. While it's easy to become enamored with this musical prodigy, it's worth mentioning that he tends to suffer from the same non-innovation issue as Joshua Davis. However, tonight Sawyer took some advice from his coach and stepped out from behind his guitar and tried to play to the audience a bit. Bending down to touch some adoring fans, he made one small section of girls in the audience swoon as he finished off the Lynyrd Skynyrd hit. In the end, it will all come down to whether or not America is sick of his folk covers or not.
Corey Kent-White (Team Blake)
Song: "When I See You Smile" by Bad English
The only country-leaning singer in Season 8, Corey Kent-White knew full well that country fans will only propel him so far in the competition. To help him combat that, his coach, Blake Shelton, gave him a song that made him step away from his country roots. White was worried that the only thing country about the rock song was him singing it, and that showed in his performance. He was able to take a break from country and really connect with the rock ballad. It didn't hurt that he seemed to have a cavalcade of young female fans in the front row cheering his every note. In a night when performers were stepping up their respective games, White followed suit showing that he can not only put on a great country performance, but adapt to whatever the challenge dictates.
Koryn Hawthorne (Team Pharrell)
Song: "Girl On Fire" by Alicia Keys
Hawthorne's performance felt a lot like a firework that took a really long time to go off. The first half of the song was pretty lackluster and almost too whiny at some points. It came together later on as she stepped down and really hit that powerful high note that the song demands. The 17-year-old gave a very gravely and hard-hitting finale that pulled the whole performance together. Still, tonight was a make it or break it kind of night and Hawthorne's performance fell closer to the "needs improvement" category than any other singer that remains on the show. Overall, she's a good performer who is simply not the best performer.
© Copyright IBTimes 2023. All rights reserved.