Voting Problems 2016 Map: Broken Machines On Election Day Reported In NYC, Virginia, Philadelphia, North Carolina And More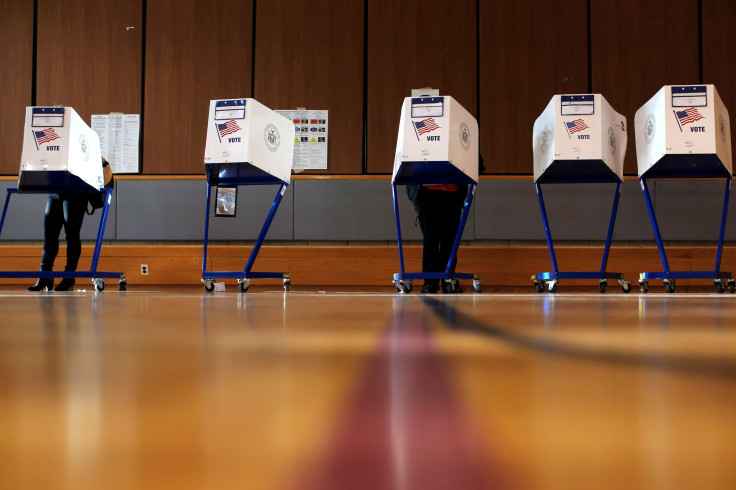 Update 4:03 p.m. ET – Due to some voters facing wait times as long as two hours, Rhode Island's secretary of state Nellie Gorbea said more voting machines are being deployed, according to the Associated Press.
Gorbea told the AP that sites in Providence, Pawtucket, and Jamestown will receive extra voting machines, and also said that new machines deployed this year provide "extra security" and may take longer to properly process ballots.
Update 3:35 p.m. ET – Pennsylvania voters, specifically those in Westmoreland Country and Pittsburgh, are seeing voting machines switch their vote for a Republican candidate switched to a Democrat, according to CBS affiliate KDKA.
"I went back, pressed Trump again. Three times I did this, so then I called one of the women that were working the polls over. And she said you must be doing it wrong. She did it three times and it defaulted to Hillary every time," Bobbie Lee Hawranko told the station.
In Westmoreland County, just east of Pittsburgh, the local GOP committee has advised voters not to use an option that allows them to select only Republican candidates.
Update 1:55 p.m. ET – A seemingly endless line captured in the video below by Quartz, shows a very long wait at one polling station in Prospect Lefferts Gardens in Brooklyn, New York.
Update 1:27 p.m. ET – For various reasons, like machine malfunctions or high turnout, lines are piling up around lunch time hours and in the mid-morning around the country.
So far, lines, broken machines, and a lack of polling staff have resulted in delays or complaints in six states: New York, Ohio, Texas, Illinois, Kentucky, and North Carolina.
Update 12:40 p.m. ET – Voters were turned back due to a broken machine in Beaver Dam, Kentucky, part of Ohio County, and paper ballots may not be an option just yet.
Update: 12:13 p.m. ET – Two election clerks in South Florida were reportedly fired and asked to leave the poll site due to some disagreement over "poll watchers," local TV station NBC6 reported.
Update 11:48 a.m. ET – As polls across the country are now officially open, more reports are coming out of the West Coast and mountain region. In Utah's Washington County, three-quarters of the voting machines reportedly broke down, according to Vice News. Paper ballots were issued but officials ran out.
Update 10:52 a.m. ET – A lack of proper equipment is also causing "chaos," according to one voter at PS 154 in New York's Harlem.
Update 10: 40 a.m. ET – Fresh reports of broken or malfunctioning machines are coming out of Texas in an unconfirmed district, while there are similar problems in Florida and South Carolina.
In South Carolina's Horry County, the director of the state's board of elections said machines are down due to "flash card" and power problems, according to WMBF.
Update 9:53 a.m. ET - Machines in Tennessee's Wilson County, located just east of Nashville, were reportedly down around 7:30 a.m. Tuesday morning and voting was stopped for about 30 minutes, The Tennessean reported.
And in North Carolina's Durham County, voters at some poll sites were directed to use paper ballots have some machines weren't working, the state's board of elections posted on Twitter.
Original Story
As voters around the country take the polls to decide their next president, some hoping to beat the early morning rush have run into voting machine problems in New Jersey, New York, Virginia, North Carolina, and other states on Election Day Tuesday.
Capping what's been a wild and often vitriol-laden campaign between Republican Donald Trump and Democrat Hillary Clinton, a number of voters have taken to Twitter to voice their displeasure with how their polling sites have been run and complained about a lack of working machines.
In Brooklyn, New York, voters lined up at 6 a.m. to be some of the first to cast their ballot at PS 38 in Boerum Hill. However, a coordinator was not on hand at the start time and voters couldn't sign in, New York Daily News reported. Roughly 20 voters were lined up at 5:30 a.m.
In New York's Upper West Side, one Twitter user snapped a picture of a long line wrapping around a city block and said it was due to machines being down at the poll site.
Another user and voter called out a site on West 104th Street, claiming every machine was broken. The city's board of elections quickly responded to his complaint to find out the name of the poll site.
In upstate New York, more problems were reported by voters.
The same can also be said in New Jersey and in Philadelphia, Pennsylvania, according to other Twitter users.
In North Carolina, one of the tightest states in this election and a major swing state for both Trump and Clinton, voting machines were reportedly down at the Hallsboro Volunteer Fire Department in Columbus County, located just west of Wilmington, according to WBTV. A report later in the morning said the machines, however, are back up and running.
In Skippack, Pennsylvania, another voter said four machines were available but only two were in use.
As polls opened in the Midwest, one voter in Illinois tweeted both machines weren't working and coordinators were not on hand to monitor the poll.
Check back for updates.
© Copyright IBTimes 2023. All rights reserved.