Voting Rights Debate 2016: Voter ID Laws Go On Trial, Could Play Big Role In Presidential Election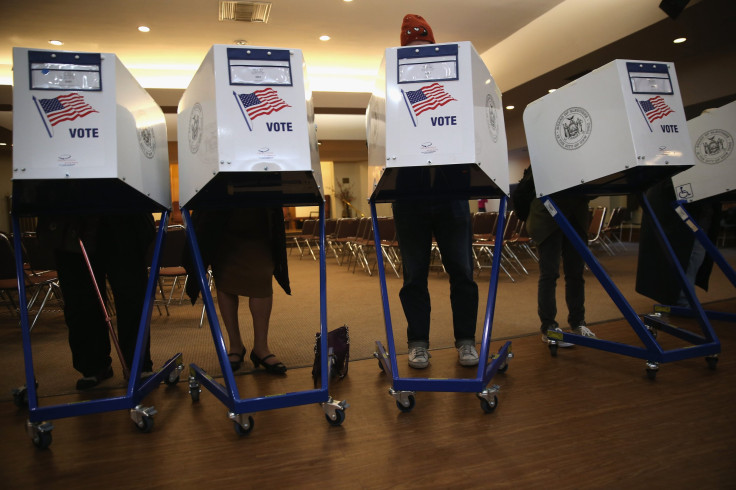 More than 50 years have passed since former President Lyndon B. Johnson sat before Martin Luther King Jr. and other civil rights leaders in the White House and signed the Voting Rights Act into law. "The vote is the most powerful instrument ever devised by man for breaking down injustice and destroying the terrible walls which imprison men because they are different from other men," Johnson said. "Today what is perhaps the last of the legal barriers is tumbling."
The president was eloquent but not quite correct. Decades later, the battle over voters' rights continues and threatens to grow in the run-up to the general election in November. A federal trial was scheduled to start Monday in Winston-Salem, North Carolina, over a state law requiring people to have photo IDs to cast their ballots. Civil rights groups have argued the 2013 law targets minority voters, who often have trouble collecting the legal documents necessary to get IDs, the Wall Street Journal reported Saturday.
North Carolina's law is one of 17 that make people show photo IDs before voting, according to the National Conference of State Legislatures. Aimed at reducing fraud, these laws are seen by critics as a way to restrict who can vote — which can affect who wins an election. That means they could play a big role this year.
African-Americans tend to back Democratic candidates in large numbers. Gallup poll data indicate that in 2012, 95 percent of black voters cast ballots for President Barack Obama. In 2008, 99 percent did, and in 2004, 93 percent voted for John Kerry.
The Journal noted Republican Gov. Pat McCrory signed the law in North Carolina. Republican Gov. Scott Walker signed the Wisconsin version, which the Supreme Court declined to take up last year.
The U.S. Supreme Court has been involved in the issue before. In 2013, it struck down part of the Voting Rights Act that made some states run their new election laws by the federal government before enacting them. Slate reported this meant Republican state governments "are much freer to restrict voting so that the undesirable minorities, whom they assume will vote for the Democratic Party [and rightly so since Republicans are openly hostile to them], will have a much more difficult time voting."
The Associated Press reported the North Carolina case's judge had predicted the plaintiffs would lose their argument, so the law would be in effect as planned during the March 15 primary. A similar lawsuit is in the pipeline in Texas where a federal appeals court decided last year the voter ID law was discriminatory. Virginia also has a related trial on the calendar.
But even if the voter rights advocates win, there could be issues. The court has indicated previously it doesn't like to change voting rules right before big elections.
"If we do run up against deadlines, whatever courts decide about the merits of some of these laws might not apply until after the 2016 election," Richard Hasen, a professor of law and political science at the University of California, told the Huffington Post.
The candidates themselves, of course, have varied stances on the issue. Sen. Ted Cruz, R-Texas, and former Florida Gov. Jeb Bush have supported the 2013 Supreme Court decision. New Jersey Gov. Chris Christie and Ohio Gov. John Kasich have both limited early voting in their states, which gives working minorities fewer chances to get to the polls, MSNBC reported.
But retired neurosurgeon Ben Carson said in October he wanted to protect the Voting Rights Act. "Whether we still need it or not, whether we've outgrown the need for it, it's questionable. Maybe we have. Maybe we haven't," Carson told CNN at the time. "But I wouldn't jeopardize it."
On the Democratic side, both Sen. Bernie Sanders, I-Vt., and former Secretary of State Hillary Clinton have made supporting voting rights part of their platforms.
Sanders introduced legislation last year to make Election Day a federal holiday. On his website, he writes it "is an embarrassment that the Republican-led Congress, in order to preserve its majorities, has refused to consider legislation to repair that damage to the Voting Rights Act and will not act to fix our broken voting system."
The Washington Post reported Clinton also has come out against efforts to limit voting. "This is wrong," Clinton said at an October event. "Fifty years after Rosa Parks sat and Dr. Martin Luther King Jr. marched and John Lewis bled, it is hard to believe that we are back having this same debate.
© Copyright IBTimes 2023. All rights reserved.
FOLLOW MORE IBT NEWS ON THE BELOW CHANNELS