'The Walking Dead,' 'Fear The Walking Dead' Update: AMC Reveals Production Restart Time Frame
KEY POINTS
"Fear the Walking Dead" will resume production in late August and "The Walking Dead" will follow suit in October
New protocols to contain the spread of coronavirus are expected to change the way filming is done in future
"The Walking Dead" Season 10 finale will air Oct. 4
"The Walking Dead" and "Fear The Walking Dead" will soon resume production, AMC confirmed.
Both the shows halted filming in March due to the coronavirus pandemic. Now, it has been revealed that "Fear The Walking Dead" will resume shooting in late August, and "The Walking Dead" will follow suit in October.
While "Fear the Walking Dead" will start production of Season 6 episodes in Austin, Texas, "The Walking Dead" will film Season 11 in Atlanta, Georgia.
"Our ability to resume in the safest possible way is something we are closely focused on," CEO Josh Sapan said Tuesday during a conference call, Deadline reported. "We will continue to monitor and adjust accordingly depending on local circumstances."
In May, series executive producer and director Greg Nicotero said new protocols would change the way filming is done in the future.
One big change would be the number of people allowed on set. For instance, instead of having 60 people on set, shows might have to do with just 35 to 40 people, Nicotero told Entertainment Weekly.
"I know the industry is working towards some sort of industry-wide guideline in terms of are we going to do box lunches and nobody takes a break and you shoot for 10 hours and that's it," he said, adding that it's going to be a unique situation and a "brand-new world."
"The Walking Dead" showrunner Angela Kang had touched on the issues of filming during the pandemic during the show's virtual panel at Comic-Con@Home 2020 last month.
"These are just unprecedented times for everyone, so I think it's just something that we are all approaching with the greatest creativity we can," Kang said.
"There's definitely things that we miss in some of the writing we're doing for the first episodes back, but at the same time, sometimes the limits that are placed on you lead to a lot of amazing creativity," she continued.
"The Walking Dead" will return to television on Oct. 4 with the Season 10 finale, which will mark the return of Lauren Cohan's character, Maggie. The final few minutes of the episode titled "A Certain Doom" is expected to take the story to a whole new level, show bosses said.
As for "Fear the Walking Dead," fans can expect to see Christine Evangelista's character Sherry returning in the upcoming season.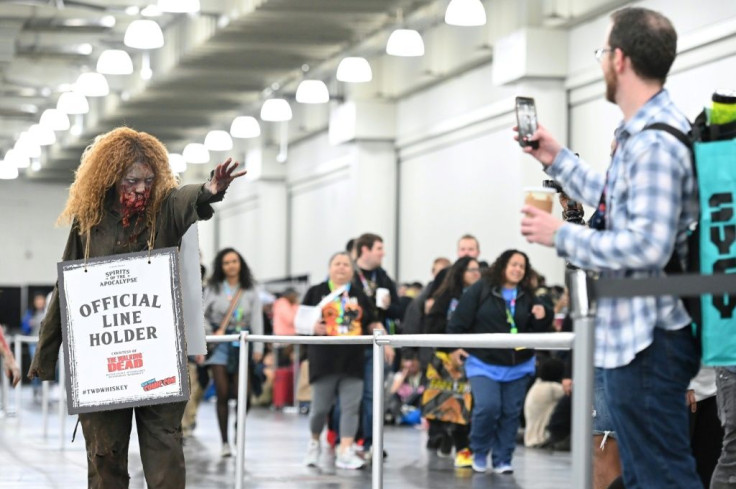 © Copyright IBTimes 2023. All rights reserved.