'Wall Street Artist Sets Sights on Corzine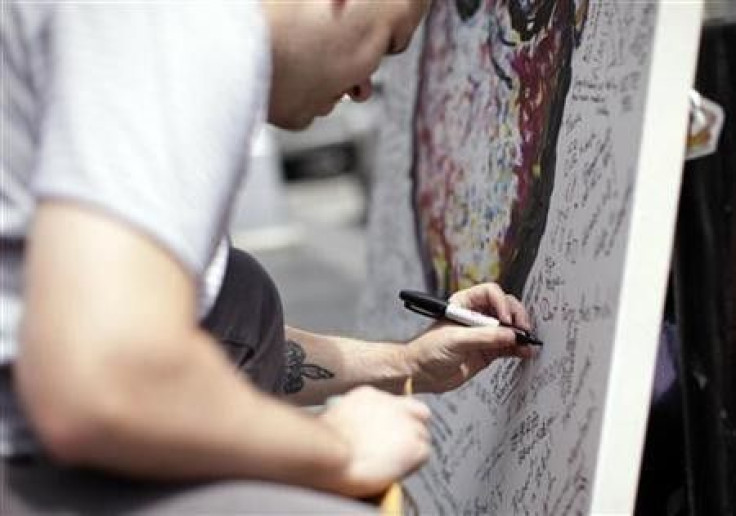 Artist Geoffrey Raymond, famous for his paintings of troubled Wall Street figures, has found his next muse in MF Global Holdings Ltd's Jon Corzine.
Raymond told Reuters on Thursday that, after news broke of the former New Jersey governor's fallen firm, he went back to his studio in Troy, N.Y., painted a fresh coat of primer over an initial sketch of Bank of America Corp's Ken Lewis and now plans to use that canvas to paint Corzine.
MF Global filed for bankruptcy on Monday after a failed attempt by Corzine, its chief executive, to turn the futures brokerage into an investment bank. Corzine's efforts to boost profits by taking more risk ended up bringing about the firm's demise.
The missing $600 million dollars was what really pushed me and got me charged up, said Raymond, referring to funds that regulators say are missing from customers futures accounts at MF Global.
One of the first rules is you're not allowed to use client money to take care of your own stuff.
Corzine joins a pantheon of the famous and infamous. Raymond has painted roughly 35 portraits of former chief executives, politicians and government figures since 2006, when he quit has job as a public relations executive. He started out painting portraits of waitresses and bartenders.
A friend of mine who worked at Fortune magazine said, if you ever want to make any money out of this, you have to start painting people that have money. Raymond said.
His first painting of former New York Stock Exchange chief executive Richard Grasso sold for $3,050 on eBay Inc.
Raymond often takes his paintings to what he calls the scene of the crime -- the Bear Stearns building with his Jimmy Cayne portrait or the Lehman Brothers headquarters with his Richard Fuld painting -- to have firm employees and passers-by write comments on the canvases.
In the case of Corzine, Raymond said he will likely take the painting to a bar in lower Manhattan. He said he thinks it will be more difficult to get people to stop by in the cold weather if he stands outside MF Global's building.
You get the most interesting comments from the 'every man' sitting at the bar, Raymond said.
I wonder what the absolute Average Joe knows or doesn't know about Jon Corzine.
Raymond plans to finish his Corzine painting by Sunday and after exhibiting it to the public will hold onto it unless a buyer emerges.
© Copyright Thomson Reuters 2023. All rights reserved.