Walmart SNES Classic Availability: Super Nintendo Classic On Sale, In Stock Today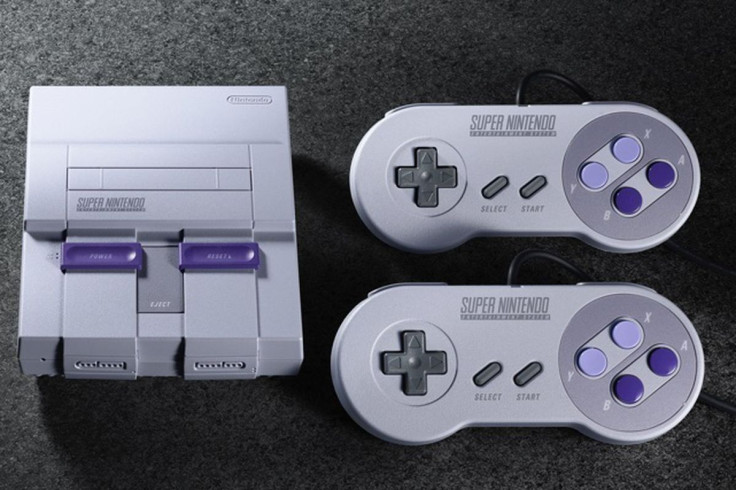 You would be forgiven for assuming, after last year's NES Classic Edition production shortages, you would not be able to find this year's SNES Classic Edition mini-console as a holiday gift. 2016's hottest gaming product was nearly impossible to find unless you had the will to refresh web pages every day.
The good news is Nintendo seemingly has your back with the super-charged sequel to the NES Classic. According to Mashable , Walmart will have SNES Classic consoles on sale each day from Nov. 15-17. All you have to do is… refresh the Walmart web page at 2 p.m. EST today, tomorrow and Friday for a chance to get one. The retailer is limiting it to one order per customer to crack down on greedy resellers.
UPDATE: Walmart should have more SNES Classic consoles available today and Friday at 2 p.m. ET. Hit the link above to see if you can get one.
Unfortunately, this still requires some diligence and luck on the part of the customer to get something that should be widely available on store shelves. That said, retailers should hopefully keep getting shipments throughout this holiday season, so this will likely not be your last chance to get your hands on the SNES Classic this year. The miniature version of the classic 1990s 16-bit console still retails for $80 and comes with two controllers and 20 games, including the never-before-released Star Fox 2 .
There is a little bit of something for everyone. Mainstream classics like Super Mario World and The Legend of Zelda: A Link to the Past sit alongside cult favorites like Earthbound . Duke it out with your friends in Street Fighter II or die repeatedly in the punishing co-op greatness of Contra III: The Alien Wars . Alternatively, dump dozens of hours into classic RPGs like Final Fantasy VI, Secret of Mana and Super Mario RPG .
Nintendo's strong stable of nostalgia-grabbing franchises like The Legend of Zelda and fresh faces like Splatoon has powered the company to a stronger-than-expected 2017. The Japanese gaming stalwart has not been able to consistently meet this newfound demand for its hardware, however, as product shortages have plagued the SNES Classic and the popular new Switch console.
The good news is Nintendo seems to be learning its lesson. After a controversially scarce NES Classic launch in 2016 and an even more contentious discontinuation, the company is bringing the mini-console back in 2018. Additionally, the Switch should be easier to find in the near future, as Nintendo is reportedly doubling production of its new hybrid console. According to The Verge , the Switch has sold 7.63 million units since its March 3 launch, bringing it shockingly close to the Wii U's lifetime sales of 13.5 million units. For reference, the Wii U was available and actively supported from 2012 to 2017.
Time will tell if Nintendo is able to meet the immense demand for the NES Classic, SNES Classic and Switch consoles. It seems as though Nintendo is willing to keep the classic consoles around for more than one holiday season, at the very least. Maybe all of the production obstacles will be removed in time for the seemingly inevitable (but not yet confirmed) Nintendo 64 Classic.
© Copyright IBTimes 2023. All rights reserved.