Walter Scott Shooting: North Charleston Protesters Rally After South Carolina Police Officer's Arrest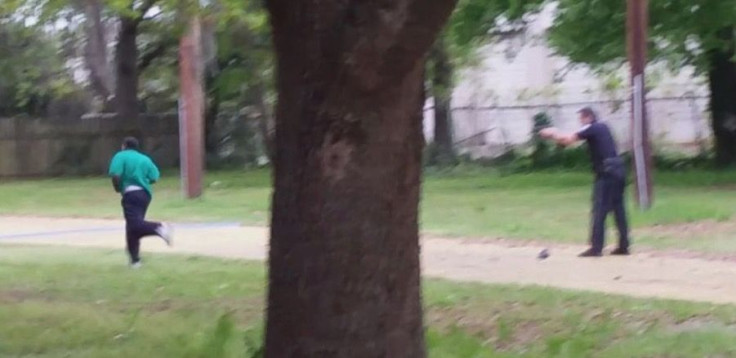 Updated as of 10:30 a.m. EDT: About 50 protesters gathered outside North Charleston City Hall Wednesday morning to protest the shooting death of 50-year-old Walter Scott by a police officer over the weekend. Scott, who was black, was gunned down by 33-year-old white police officer Michael Slager, leading many to draw parallels to a string of recent shootings of unarmed black men by white law enforcement.
Demonstrators held signs stating "Stop racist police terror" and "All lives matter." One protester told the Post and Courier, "This is a movement…This is not a moment." A live stream video of the protest is available online via NBC News.
--
Original story:
A protest over the South Carolina shooting death of Walter Scott was scheduled for Wednesday morning outside North Charleston City Hall, multiple news sources have reported. The demonstration was expected to begin at 9:30 a.m.
Twitter users voiced their support for the protest, using the hashtags "nojusticenopeace" and "blacklivesmatter," echoing slogans widely used in the wake of several recent killings of unarmed black men by white police officers.
"I think that this is just another example of a problem that we have in our community, and we need to take a hard look at the way police officers are hired and advanced and deployed and disciplined, and also the systems of accountability in general," Brandon Fish, a member of activist group Black Lives Matter-Charleston, told the Charleston City Paper on Wednesday.
Scott, 50, was fatally shot in the back Saturday while fleeing North Charleston police Officer Michael Thomas Slager, who initiated a traffic stop over a broken taillight. Slager claimed Scott attacked him and attempted to take his Taser, however his story was contradicted after video footage shot by a bystander emerged and appeared to show Slager placing the Taser next to Scott's body. The 33-year-old officer was arrested Tuesday and charged with murder.
Slager's arrest was largely the result of the video, which was given to Scott's family and later published by the New York Times. "I think through the process we have received the truth," Walter Scott's brother Anthony Scott told reporters. "We can't get my brother back, and my family is in deep mourning. ... But through the process, justice has been served."
The video of the fatal shooting -- which was recorded by a bystander -- is uncut and graphic in nature and can be seen below.
© Copyright IBTimes 2023. All rights reserved.