WATCH: 5-Foot Python Coiled Around 17-Foot Cobra's Head During Deadly Battle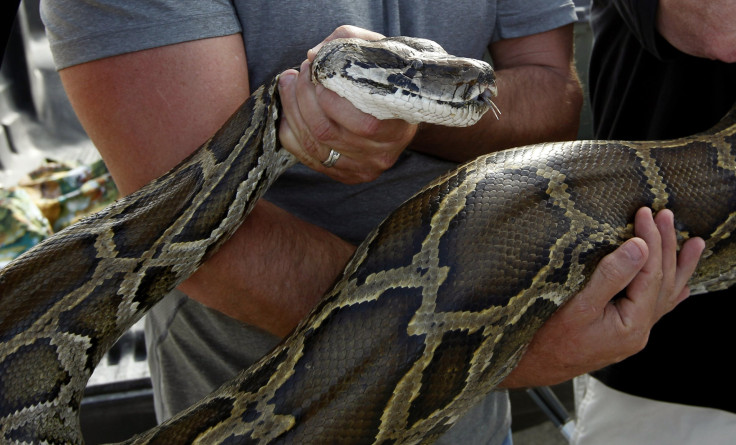 A video released over the weekend on social media shows a 5-foot-long python coiled around a 17-foot-long king cobra's head under a palm tree in a holiday resort in Krabi, Thailand. The two snakes engaged in a deadly battle that reportedly lasted for three hours.
Locals watched the king cobra and the python fighting for life. The python made desperate attempts to break free from the cobra as it had wrapped itself around the smaller snake's head. Despite several attempts to evade the cobra's attack, the python was killed.
Residents called the emergency services after they spotted the two snakes and hours later the rescuers caught the dark-black adult cobra and locked it in a cage to be taken away and released in the jungle.
"We were informed by a 23-year-old witness that there were two big snakes in the oil palm plantation," chief rescuer Khun Napawan said, according to reports. "We arrived with a team of five people and found a python, 1.5 meters long (5 feet), strapped around the head of a large king cobra which was longer than five meters (17 feet).
"Both snakes were still alive. After more than three hours, the king cobra started moving and the python started loosening," he added. "Then, the king cobra crept into the pond next to the palm garden about 30 meters away. The python was dead but because there were so many people watching, the cobra could not eat it. The villagers then rush to find the snake. It was found in the water. It has caught and [was] caught in the end. Then put it in a cage to prepare for release in the forest."
Large snakes such as the king cobra and the python are not uncommon in Thailand, and with the ongoing monsoon storm season, these reptiles begin to seek shelter on dry land after their homes are flooded.
Last month, animal rescuers were forced to tackle a very large python in Thailand's Chachoengsao province after a woman discovered the 10-feet long snake hiding in her bedroom as it attempted to attack her kitten. Rescuers claimed the python likely turned up by way of monsoon rains, the Daily Mail reported at the time.
© Copyright IBTimes 2023. All rights reserved.