Watch: 8.5-Foot Alligator Violently Resists Capture After Being Found Under Truck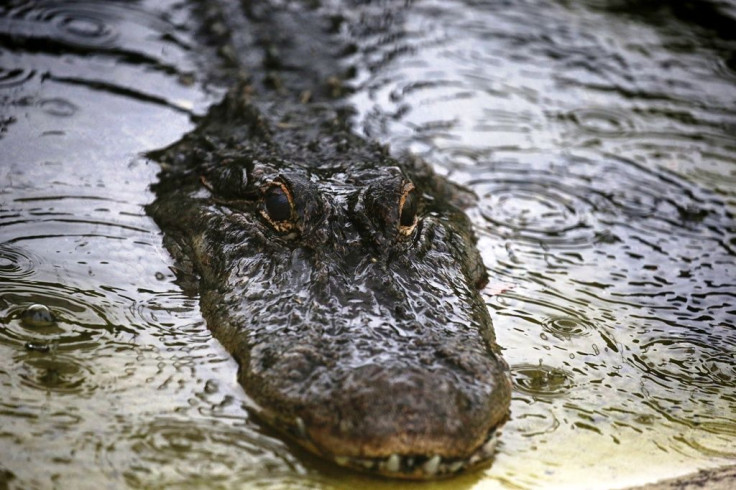 An 8.5-foot alligator violently resisted being captured after being spotted underneath a resident's pickup truck in Florida. The video, posted Tuesday on Pasco County Sheriff's Office's Facebook page, showed the gator trying to escape.
Deputies were called to the scene by a Sable Ridge resident. A state alligator trapper later arrived to remove the alligator from underneath the truck. The video shows one of the trapper hooked the gator around the neck and pulled it out on to the lawn. The huge reptile thrashed violently, rolling around in the grass before giving up after getting exhausted. "Monster!" a bystander is heard saying in the video.
"Today is #LoveYourPetDay, in case you did not know," the sheriff's office said while posting the video, which received thousands or likes and comments. "Most of us Floridians may not keep gators for pets, but we have enough of them in our backyard to consider them 'family.'"
In another incident of an alligator lurking in the open, a 15-foot gator was captured on camera strolling on a golf course. The video was posted on Facebook by Pope Golf on Feb. 14.
Residents of Florida have several encounters with alligators. Earlier this month, a Florida man was in complete shock to find a 8-foot-long alligator in his pool. Photos of the reptile were posted on Facebook by Boca Raton Police Services Department. Matt Fino was taking his dog for a routine morning walk when he discovered the alligator.
According to reports, in 2016, the state wildlife agency received 12,772 complaints about alligator nuisance and removed 8,118 gators.
In January, an alligator and a Burmese python tangled on a Florida golf course. The fight between the two was captured in a series of photos posted to Facebook.
"'Wild' day on the 10th hole today! That's an alligator and a Burmese python entwined. The alligator seems to have the upper hand," Richard Nadler, who was among the spectators of the fight, captioned the photos of the battle.
© Copyright IBTimes 2023. All rights reserved.