WATCH: Floyd Mayweather Gets Harassed By Conor McGregor Fans In London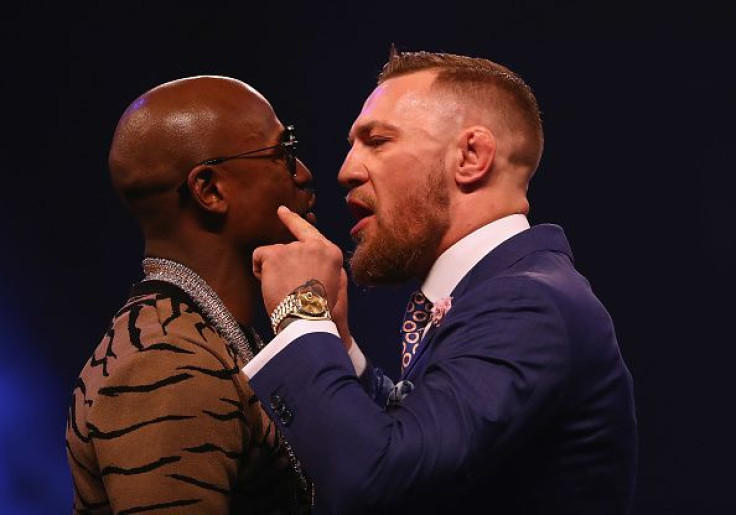 Conor McGregor fans were filmed harassing Floyd Mayweather Jr. near the SSE Arena in London. Fans crowded around Mayweather's chauffeured vehicle Monday.
Upon leaving a press conference to promote the August 26 fight, fans can be seen chanting and attempting to impede Mayweather's vehicle in a video obtained by TMZ Tuesday. Mayweather's car tried to advance, but the crowd of fans made it near impossible.
Security guards tried to establish order and some can be seen forcefully moving fans to the side. At one point, it appeared that Mayweather's vehicle struck one of the security guards. The vehicle advanced, the camera panned away and the guard is seen gathering himself off the ground.
Mayweather and McGregor traveled four days for a world press tour. The tour ended in London, England Friday.
READ: Floyd Mayweather vs. Conor McGregor: How Many PPV Buys Will The Fight Do?
UFC commentator Jon Anik tweeted out a comment last Thursday made by UFC President Dana White, who forecasted Mayweather's crowd issue. During the press event at the Barclays Center in Brooklyn, Mayweather provoked McGregor when he threw money near the UFC fighter's face. Security got involved after a scuffle ensued between the two.
White also apologized for the rowdy event in Brooklyn via Twitter.
"Brooklyn, NY thank for coming tonight!! Sorry for the #shitshow we appreciate ur support," he tweeted.
During an interview backstage at a boxing match in January, Mayweather — bothered that White lowballed him and McGregor at $25 million for a possible fight — described White as the guy who "used to carry my bags."
"I don't want to talk to Dana White," Mayweather said. "Remember, Dana White, he was a player he was a boss but he was a small boss. The big bosses were the Fertittas. But then the Fertitta's chose to sell the UFC so Dana is just an employee. but I can remember Dana White used to hang around me and Jeff Mayweather and carry my bags."
Mayweather apologized onstage during a press conference last Wednesday in Toronto.
"Dana, I could never disrespect you," Mayweather said. "I've known you for 21 years. You've done a hell of a job with this company. And I want to continue to watch you grow. I want to watch you continue to build the UFC, because it's all about combat sports."
READ: Did Conor McGregor Get Knocked Out Training For Floyd Mayweather Fight?
Mayweather talked to reporters backstage after the event and continued to apologize.
"Dana White used to come over my house every day," he said. "I've been knowing Dana White 21 years. I'm big enough to apologize to Dana White. I'm a real man, that's what real men do. I'm man enough to apologize."
Mayweather added, "I've said some stuff about Dana. I'm only human. He takes shots at me; I take shots back. I'm only human. I'm not upset with Dana White, I'm not upset with anybody."
© Copyright IBTimes 2023. All rights reserved.