Watch Madonna Kiss Drake And His Horrified Reaction At Coachella Music Festival [VIDEO]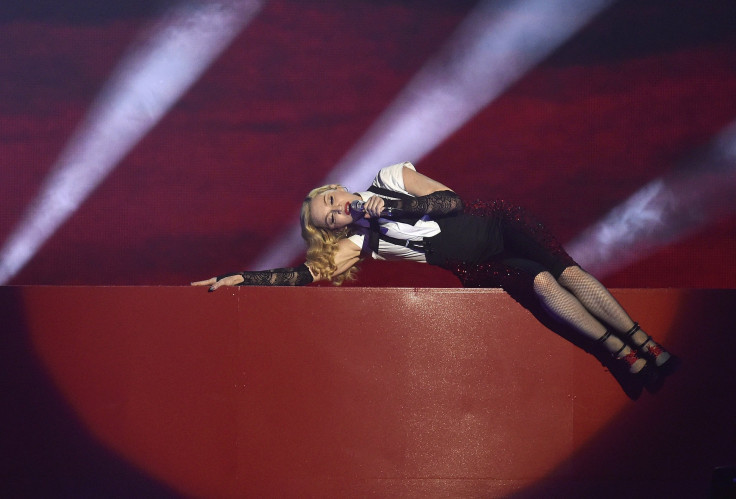 Dear Madonna, Drake did not enjoy kissing you this weekend and he doesn't care who knows it. Emo rapper Drake introduced pop icon Madonna as his guest during his performance Sunday night at the Coachella music festival in Southern California while performing hits from his latest mixtape/album, "If You're Reading This It's Too Late." She performed a medley of her songs "Human Nature" and "Hung Up" before going in for a deep-throated onstage kiss.
Drake made it clear that he was not into it, immediately making a grossed out face and wiping his lips. Madonna shook off the diss, yelling out "B----, I'm Madonna" before strutting off the stage. "Oh sh-t, what the f--k just happened?" Drake asked the audience.
Madonna, 56, had been plotting her kiss with the 28-year-old Canadian rapper for some time, apparently. She recently told Us Weekly, "The lifelong ambition I still want to fulfill is to go on a dream date with Drake -- and only kiss him."
Drake made his respect for Madonna known in the past by naming a song after her. His "Madonna" anthem has lyrics such as "don't know if you know, but I know who you are, you could be big as Madonna." Madonna expressed her admiration for the song in a February Instagram post with the caption: "i love your new song about me! It's my favorite! I'm still waiting for you to pick me up........ Ask D for my address! I knew you were a #rebelheart !"
Other than Drake's uncomfortable reaction, the passionate kiss recalled Madonna's makeout session with Britney Spears onstage during the MTV Video Music Awards in 2003.
Coachella's eclectic lineup this year also included performers Jenny Lewis, HAIM and Marina Diamandis.
Fans seem stunned by the kiss.
© Copyright IBTimes 2023. All rights reserved.