WATCH: Matt Lauer Plays Victim In Sexual Harassment Parody Video
NBC Studios announced on Wednesday that the television company had fired "Today" show co-host Matt Lauer for "inappropriate sexual behavior," alleged by a former co-worker. Meanwhile, video has surfaced of the former morning show host participating in a sexual harassment parody segment.
"On Monday night, we received a detailed complaint from a colleague about inappropriate sexual behavior in the workplace by Matt Lauer," Andrew Lack, the NBC News chairman, said in a memo to the staff. "While it is the first complaint about his behavior in the over 20 years he's been at NBC News, we were also presented with reason to believe this may not have been an isolated incident."
Lauer has been mum regarding the incident and has yet to release an official statement. However, "The Daily Show" posted video via Twitter of Lauer and his "Today" show co-workers making light of sexual misconduct in the workplace. The parody aired in 2012 on "The Daily Show" as part of a segment that intended to be lighthearted.
The almost 5-minute video features journalist Jeff Rossen disclosing video footage of Lauer and "Today" show correspondent Willie Geist on a special edition of "Rossen Reports," where Rossen investigates surveillance footage that showed Geist inappropriately hitting Lauer on the butt with a stack of folded papers.
"Look, this kind of behavior happens all of the time between guys on football fields and huddles, but is it really appropriate for the workplace?," Rossen said in his segment before interviews with Lauer and Geist were played.
"I was standing by the doorway in the vestibule and Willie came out. I said, 'Hi Willie, Hey how are you?' and then he reached out and, you know," Lauer said in the segment.
"I didn't do anything differently, I wasn't wearing a different cologne. This was uninitiated," Lauer said when Rossen suggested he did something to provoke the behavior. "I'm upset for a couple of reasons, one that he denied it, if you did it, own up to it, and secondly, since it happened, he hasn't called. He has written, nothing."
Lauer was also caught on video in October 2006, while taping a show, making lewd comments to NBC's Katie Couric.
"Pretty sweater. Keep bending over like that. It's a nice view," Lauer can be heard saying to Couric as she leaned over near a table.
The video has resurfaced amid multiple reports of allegations of sexual misconduct against men in media this month, including television personality Charlie Rose and radio host Garrison Keillor.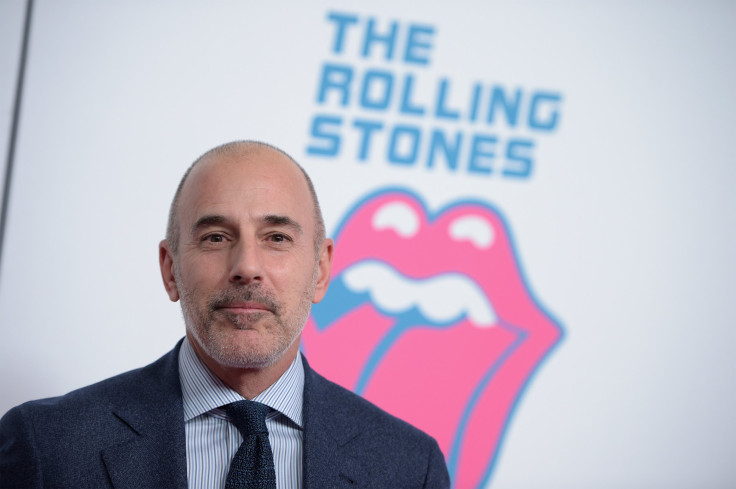 © Copyright IBTimes 2023. All rights reserved.