WATCH: News Anchor Vomits On Live TV After Attempting 'One Chip Challenge'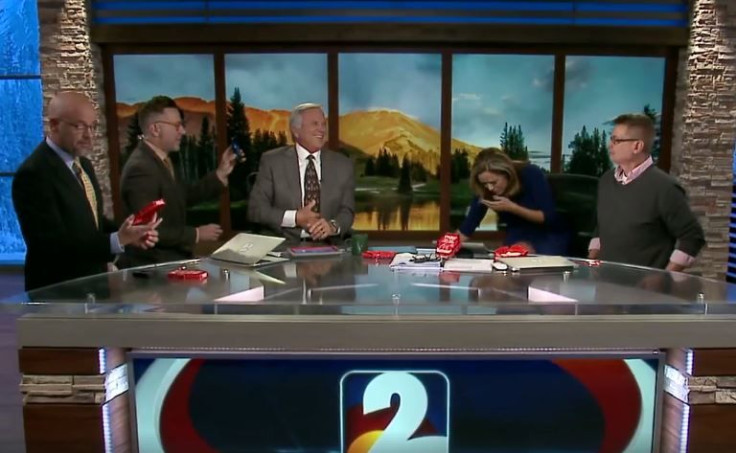 A morning news anchor in Denver fell victim to the world's so-called "hottest chip" this week after attempting the One Chip Challenge live on air. The stunt was part of Paqui's ongoing contest in which participants eat a chip made from the "hottest pepper on the planet."
Natalie Tysdal and several other anchors at CW-syndicate KWGN-TV tried Paqui's Carolina Reaper chip — which comes packaged individually — live on air before things got messy. The chip is made with ghost peppers, which last year tore a 1-inch hole in a man's esophagus as the result of his reaction to it.
Trying the chip with her colleagues, Tysdal's reaction to the chip was immediate. She began gagging and reached for her cup of coffee. After taking a sip, she fell to the flooring and began vomiting. After some commentary by the other anchors, they cut to break.
Video of the aftermath was posted to Facebook on Wednesday and had been viewed more than 350,000 thousand times by Friday afternoon.
Tysdal wrote about the experience in an Oct. 25 post on Facebook.
"I thought I was okay until I had a drink of my coffee to wash down the chip," she said. "I threw up, couldn't breathe and felt like fire was coming out of my mouth, nose and ears. I had a bottle of water, a glass of milk, a tablespoon of honey and 3 mints and still felt on fire. An hour later I had chills and a massive headache. Three hours have gone by and I feel like I was beat up in a dark alley."
She added: "Oh, and did I mention I shared the chip with my producer Scott Elliott? CRAZY! I wouldn't recommend it."
© Copyright IBTimes 2023. All rights reserved.