WATCH: Ohio Police Officer Shoots Dog In Self Defense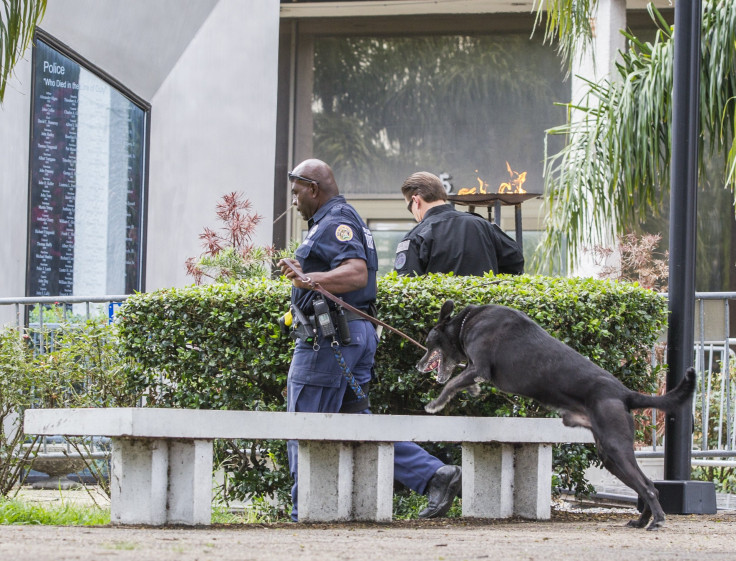 A dog was shot in self-defense by a police officer in Alliance, Ohio. The officers claimed that the dog attacked him and he was forced to shoot it.
In the video captured July 24, police officer Josh Tenney is seen responding to a complaint of three ferocious dogs running loose. As the dogs approach him and attack him, Tenney shoots at it.
Investigators have also added that the video supports Tenney's claims of being in danger while being charged by the dog, a report said.
Read: Can Police Officers Use Batons, Chemical Agents, Stun Guns Or Attack Dogs While On Duty?
The officer had received information that three dogs were on the loose. The body camera worn by the officer from the Alliance Police Department (APD) showed him to whistle to the dogs to come to him. What he did seemed unintentional and out of self-safety.
However, the owner of the dogs, Morgan Furry, has an altogether different opinion about the whole shooting incident. She said that the dog killed was playful, not aggressive, News 5 Cleveland, an ABC-affiliate reported.
Furry said that her fiance Mark had left their three dogs — two pit bulls and a rottweiler — out into the backyard but they escaped by going under the fence.
Soon after the animals were out, the police received a call from someone complaining about the dogs on the loose. Furry said, she also called the police.
"So I told Mark, 'hey go get them they were just spotted on Salzburg about 5 minutes ago,'" she said.
At the time, Tenney reached the spot, he tried to call the dogs from inside an automobile parts store, the local media outlet reported.
This is not a stand-alone incident where an officer killed a dog. Earlier this month, a body cam video showed a Minneapolis police officer shooting two dogs at a home where he was responding to a burglar alarm. He later apologized to the resident of the home, Fox News reported.
Read: Laquan McDonald Case Leads To 3 Chicago Officers Being Charged With Felony
In July 2013, a video was posted on Youtube showing a police officer in California shooting a three-year-old rottweiler after it escaped through a window in a parked car and ran over to his master who was getting arrested for filming them on his phone, according to a report.
Cases of dog shootings by cops in the U.S. are not unheard of and are pretty common if we go by the statistics of the Department of Justice, which estimated last year that 25 dogs are killed by law enforcement every day in the country. This makes it a total of 10,000 per year, according to The Nation
As a result of deadly encounters between the cops and dogs, at least two states, Colorado and Texas, have imposed a new law that mandates canine —encounter training for all officers, Dallas News reported.
© Copyright IBTimes 2023. All rights reserved.