Watch 'SNL' Cold Open And The Best Skits From Last Night
Emma Stone returned to "Saturday Night Live" to host another solid episode. The night kicked off with a hilarious—and for once, non-political—cold open, and there were quite a few funny sketches throughout the April 13 episode. Watch the best "SNL" skits from last night below:
Jail Cell Cold Open — "SNL" kicked off by showing what life might be like if Lori Loughlin (Kate McKinnon) goes to prison for her involvement in the college admissions scandal. When one of the other prisoners recognizes her as Aunt Becky from "Full House," she pulls out a shiv. "You think prison is hard? I have done 68 Hallmark movies," she says.
It turns out Loughlin isn't the only recognizable inmate. Michael Avenatti (Pete Davidson) and Julian Assange (Michael Keaton) are there too.
Royal Baby Video — Much like last year's royal wedding video on "SNL," Mikey Day's Prince Harry guides the camera around the baby shower. Prince Harry is dodging camera obsessed James Corden (Aidy Bryant) and meets plenty of other celebs throughout, like Ringo Starr and 21 Savage. He finds the Queen (McKinnon) under an avalanche of presents because she was trying to figure out what the Clooneys gifted to the baby, and Prince Charles' disappointment that the Queen is perfectly healthy is caught on camera.
Fashion Coward — Finally, a store for women who hate shopping. This place just sells "clothes that suggest the general idea of a person." The shop has lots of options, like a grey sweater that is also an invisibility cloak. The store has "far mirrors" and a mercy gas that releases if you take more than 30 seconds to figure out if you like something.
The Actress — In this "SNL" skit, Emma Stone plays a slightly less successful actress. She is starring in a gay porno, and she has a whole two lines. That won't stop her from imagining a vivid backstory, though.
"Saturday Night Live" returns to NBC on May 4 with host Adam Sandler and musical guest Shawn Mendes.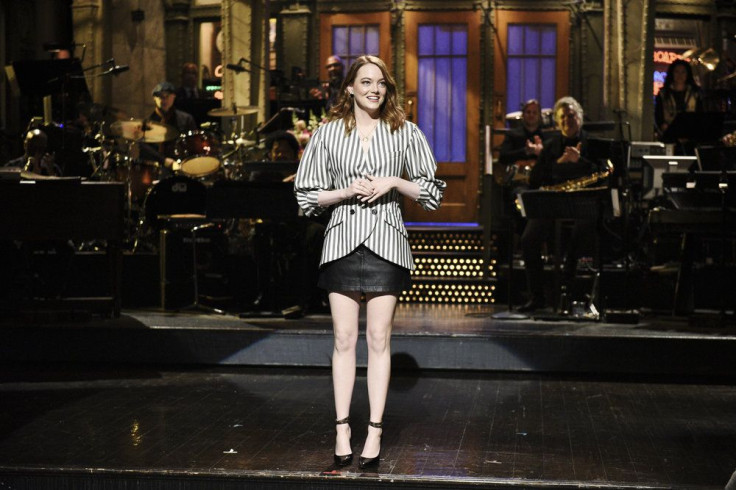 © Copyright IBTimes 2023. All rights reserved.