WATCH: Stephen Colbert Appears To Defend George H.W. Bush Groping Scandal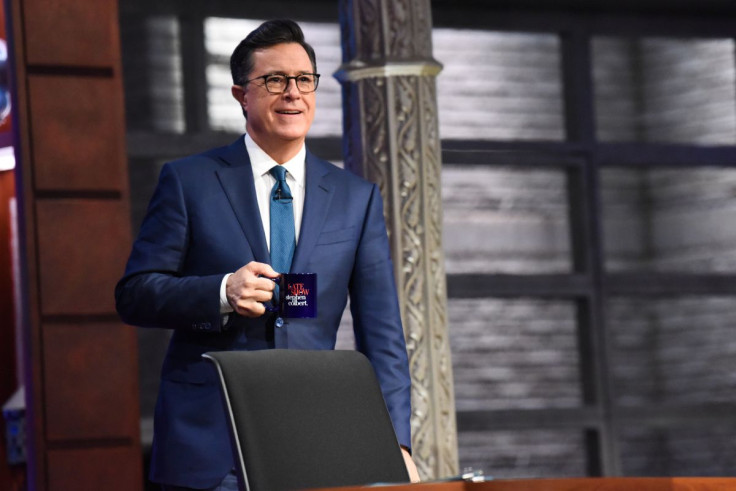 He's been openly critical about other men who have been accused of sexual misconduct, most notably Harvey Weinstein and Bill O'Reilly. However, when it comes to the scandal that has begun to develop around former President George H.W. Bush, Stephen Colbert appears to be drawing a line in the sand.
During the Oct. 26 broadcast of "The Late Show With Stephen Colbert" on CBS, the host appeared to defend the former President, who at the time of airing had been accused of previously groping the rear ends of two different women during photo ops in recent years. Since then, a third woman has also come forward with a similar allegation.
However, unlike his remarks about Weinstein earlier this month, where he slammed the once influential Hollywood producer, Colbert seemed to take a different approach in regards to Bush, who has been accused of groping women's behinds from his wheelchair during photo calls in 2014, after telling them all the same joke about his favorite magician being "David Cop-A-Feel."
During his monologue about the incident, Colbert acknowledged that there have been far too many cases of sexual misconduct being reported lately, which he admitted made him feel "bad" as both a human being and a comedian. However, he also seemed to defend Bush's actions because of his age.
"Oh come on, not him He's the Bush we like!" Colbert said. "He's a 93-year-old grandpa who's been married to the same woman for 72 years! What is that? That's the uranium anniversary!"
He went on to say that no one wanted to hear about this stuff in regards to the 41st President, and indicated that the claims against him seemed a far stretch by naming fictional characters he was afraid would be named for harassment next.
"He's a very nice guy, I've met him, he's lovely. We like H.W. don't we? We don't want to hear this stuff," he said. "Who's next? Colonel Sanders? Papa Smurf? Air Bud? Hey, there's nothing in the rulebook that says a dog can't play basketball and then ask a production assistant to come to his trailer and check him for ticks. If you know what I mean...."
Bush has since apologized for the behavior through a spokesperson, saying that the joke he tells is meant to put people at ease over his being in a wheelchair, and that he has on occasion patted women's rear ends in a good-natured way and did not intend to offend or cause any harm.
Colbert has not acknowledged his monologue on social media. You can watch what he said below.
© Copyright IBTimes 2023. All rights reserved.