WATCH: Tense Moments In Louisville As Diner Draws Gun On Armed BLM Protesters
KEY POINTS
Protesters were marching to Churchill Downs seeking justice for Taylor
Footage and photos of the incident show altercation at La Chasse
Patrons and protesters brandished firearms: Police
In a shocking incident that took place on the day of the Kentucky Derby, a patron pulled a gun on armed Black Lives Matter (BLM) protesters when they stormed the outdoor area of an upscale Louisville restaurant during demonstrations in honor of Breonna Taylor. The latter was shot dead by local police in a botched drug raid last year.
Footage and several photos of the Saturday altercation between patrons and protesters at La Chasse, located in the 1300 block of Bardstown Road, was tweeted by Hayes Gardner, a writer at Louisville Courier-Journal. A man was seen pointing his pistol at several protesters during the confrontation at the restaurant. Many demonstrators also appeared to be carrying firearms.
According to the newspaper, some protestors tried to defuse the tense situation by urging other demonstrators to move away from the diner with the gun. Louisville Metro Police soon responded to the incident.
A restaurant worker told police "that multiple armed protesters entered the restaurant property, which included outdoor dining space," police spokeswoman Alicia Smiley was quoted as saying by Fox News. She said that both diners and protesters "brandished firearms."
According to Smiley, the restaurant confrontation occurred just after several southbound protesters were arrested in the area on the 1500 block of Bardstown Road for "repeatedly blocking the roadway despite multiple verbal requests by officers to utilize the sidewalk."
The Fox News report said that five arrests were made in connection with protests. This included a suspect charged with possession of a handgun by a convicted felon and first-degree wanton endangerment of an officer.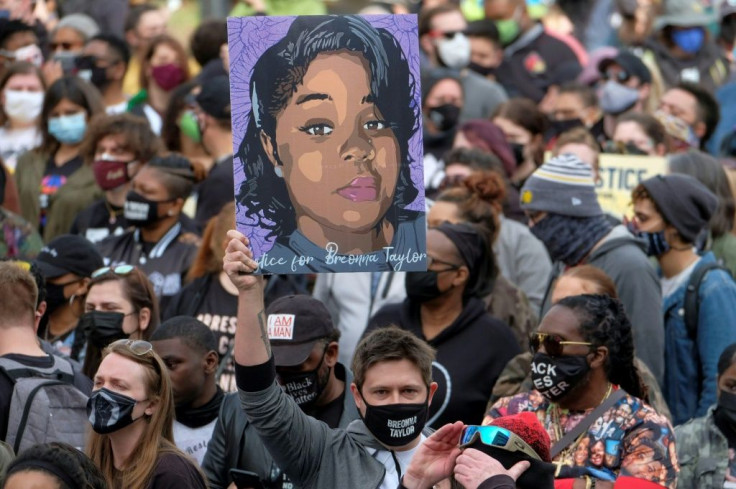 On Saturday, around 20 protesters took out a rally in front of Churchill Downs ahead of the 147th Kentucky Derby. They carried signs with messages seeking justice for Taylor, that included: "We haven't forgotten Breonna," "No Justice, No Derby," "Black Lives Matter Louisville," and "No Justice, No Peace," among others. Later, about 50 demonstrators gathered for a march down Bardstown Road.
Louisville Metro Police Department shared its response to the protests in a Facebook live stream. In the video, protesters are seen surrounding officers and swearing at the ones making an arrest.
U.S. Attorney General Merrick Garland announced earlier that the Justice Department would be holding a probe into the Louisville-Jefferson County Metro Government and the Louisville Police Department more than a year after Taylor was fatally shot by a city police officer.
Louisville has been witnessing a surge of violent crime. Police statistics show that murders, rapes and robberies are up more than 81% above the five-year averages in January and February.
© Copyright IBTimes 2023. All rights reserved.