Wave Of Dismissals Next? Thousands Of USAF Troops Reject Biden's Vaccine Mandate
KEY POINTS
96.4% of active USAF troops are at least partially vaccinated
Workers who refuse full vaccination by the deadline may face potential dismissal
Some defense firms are anticipating possible worker loss
Sen. Jim Inhofe, a Republican, said the vaccine mandate "hinders military readiness"
Thousands of U.S. Air Force employees have refused to comply with a federal COVID-19 vaccine mandate for U.S. troops, raising concerns about the employee shortage that could result from the wave of refusals.
Data from the Air Force revealed that about 96.4% of active members of the force have received at least one dose of a COVID-19 vaccine, but officials warned that airmen who refuse to get fully vaccinated could face possible charges under the military justice system or they could face dismissal from service, the Washington Post reported.
So far, up to 12,000 airmen have refused full vaccination. There has been apparent pushback from U.S. troops since the order was issued by the Pentagon in August. There is also a growing concern over the possibility of worker loss in defense firms due to the mandate.
The order requires all active duty personnel to be fully vaccinated against the virus by Nov. 2, while all Air Force Reserve and Air National Guard personnel are mandated to be fully vaccinated by Dec. 2. USAF employees with proof of vaccination in their medical records are considered as meeting the vaccination requirement. Those who have proof of medically-related reasons for vaccine refusal can avoid the mandate, as well as those who secure religious waivers.
Katherine Kuzminski, a military police expert at the Washington-based think tank Center for a New American Security, said a wave of dismissals is possible at the Air Force personnel system, especially among crucial positions like aircraft maintainers and pilots, if any of the said vital workers are faced with potential dismissal.
Greg Hayes, the Chief executive of Raytheon Technologies, said the company could possibly lose "several thousand" workers.
Kathy Warden, the Chief executive of Northrop Grumman, said that while the company is still assessing potential losses in the workforce, it is also "proactively increasing" hiring of new employees "in anticipation that we may have some loss of workers."
Civilians have also started showing support for Air Force personnel who refuse to get vaccinated.
On Thursday, nearly 100 people rallied outside the Hill Air Force Base in northern Utah in support of airmen refusing the vaccine, ABC affiliate KTVX reported.
In photos obtained by the outlet, protesters can be seen waving American flags and chanting "my body, my choice." Speaking with the outlet, sub-contracted government employee Joe Clark said a person's "career should not be put in contingent on that decision."
Fox affiliate KSTU reported that some of the protesters were employees of Northrop Grumman, while others told the outlet that they were civilian employees at the Hill Air Force Base.
Some Republican lawmakers have also written a letter addressed to President Joe Biden and Defense Secretary Lloyd Austin, urging them to "reconsider the manner in which you are seeking to address this issue so as not to harm the livelihood of civilian contractors, industry partners, and strategic goals of our armed services," The Hill reported.
Signatories included House Armed Services Committee ranking member Mike Rogers, R-Ala., Bill Posey, R-Fla., Vicky Hartzler, R-Mo., and Rob Wittman, R-Va.
Sen. Jim Inhofe, the top Republican on the Senate Armed Services Committee, said the vaccine mandate "hinders military readiness" and called it "politically motivated."
He stated in the letter that mandating that troops and civilian federal defense workers get the COVID-19 vaccine risks the "readiness and morale" of the force and should be immediately suspended.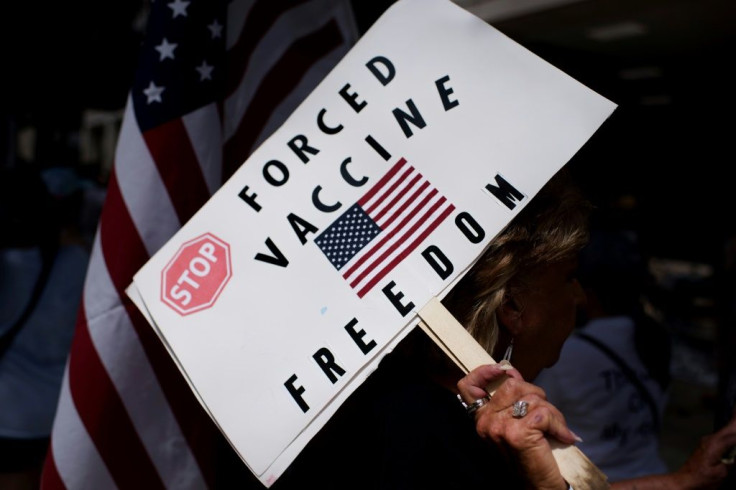 © Copyright IBTimes 2023. All rights reserved.