Is This Weather Normal? Sierra Nevada Snowpack Too Deep To Measure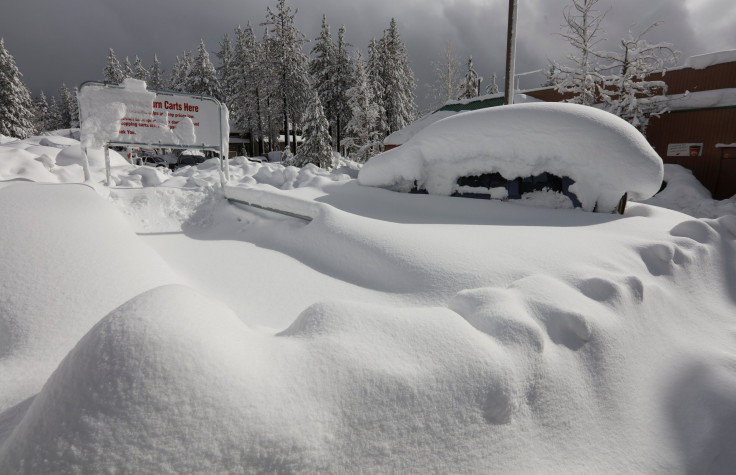 After a brutal winter in the Sierra Nevada, California could find itself quickly recovering from a years-long drought. The snowpack in Reno, Nevada, has even gotten too deep for scientists to confirm the snow depth in the area, USA Today reported Thursday.
Researchers were looking to determine the snow depth at Slide Mountain at Mouse Rose Ski Resort Wednesday, and could not find solid ground beneath the snow (the poles used for measuring the depth were submerged over 16 feet and still could not hit ground). The northern Sierra Nevada snowpack was at 159 percent of normal conditions, the central area was at 191 percent and the Southern Sierra Nevada was at 201 percent, according to data this week from the Department of Water Resources.
That means that for California, this winter has been one of its wettest winters on record. In the Sierra Nevada, a "snow water equivalent" was measured at 43.4 inches Wednesday, according to a snow survey by the Department of Water Resources. A snow water equivalent of 28 inches was recorded in February alone at Phillips Station, the Sierra Star reported.
The snowpack provides much of the state's water for farms and homes during the warm months. The snow melt this year could relieve water reservoirs during the spring and summer months.
"Who would have thought this two years ago when we were measuring the worst snowpack on record," hydrologist Jeff Anderson said of the previous years' drought.
The central and southern regions of the Sierra Nevada were especially impressive. According to Anderson, the snowpack levels in the areas were nearing levels that were last documented in 1983.
The Sierra snowpacks are a crucial factor in water supply. The melted snow water from the region provides California with one-third of its water. The snowpack measurements still need to be re-evaluated in April, when the levels are said to be at their peak, before Gov. Jerry Brown will be able to declare whether the state has officially pulled out of its drought.
© Copyright IBTimes 2023. All rights reserved.