'Wedding Every Weekend' Hallmark Channel Movie Premiere, Cast, Trailer, Synopsis
Hallmark Channel's Summer Nights event is already coming to an end, with the premiere of the final new film, "Wedding Every Weekend," starring Kimberley Sustad and Paul Campbell.
Fans of the network's movies will be ecstatic to see Sustad and Campbell reunite after their 2018 holiday film for Hallmark Movies and Mysteries, "A Godwink Christmas," but while this will only be their second project together, both have had a steady presence when it comes to Hallmark originals.
Sustad also starred in the 2014 Hallmark channel holiday flick, "The Nine Lives of Christmas," but has also been featured in other films as well, including Hallmark Channel's "A Bride for Christmas," "All Things Valentine," "Walking the Dog" and "Cooking with Love." On Hallmark Movies and Mysteries, she has appeared in "The Gourmet Detective," "Hearts of Christmas," "Site Unseen: An Emma Fielding Mystery," "Past Malice: An Emma Fielding Mystery," "Morning Show Mysteries: Death by Design" and "Sense, Sensibility and Snowmen."
Campbell, meanwhile, has also starred in Hallmark Movies and Mysteries "Holiday Hearts," as well as several films for Hallmark Channel—including "The Last Bridesmaid," "Sun, Sand & Romance," "Once Upon A Holiday," "Surprised by Love" and "Window Wonderland."
So what can fans expect when these Hallmark veterans reunite for their newest project together? According to a synopsis, many wedding invitations, and, of course, some love.
After breaking up with her boyfriend, Brooke Ethridge (Sustad) decides to remain single for the summer following a breakup with her boyfriend, even though she has a series of weddings to attend, but she quickly learns she may need some help as she gets through the events—which she finds through Nate (Campbell), whom he has had a series of chance encounters with in the past.
"At the first of four, weekly weddings on Brooke's calendar, she gets seated at the singles table where she once again runs into Nate, a friend of the groom," the synopsis reads. "Nate recused Brooke from an overeager bachelor and after learning that both are committed to being single, they keep each other company at the reception, parting as 'wedding buddies.' But when they cross paths once more at wedding #2, Brooke and Nate make their 'wedding buddies' moniker official."
After the two realize they are invited to all of the same weddings this summer—and are even serving as Maid of Honor and Best Man for Ginny (Brandi Alexander) and Greg (Jaime M. Callica), the two start to grow closer—but things quickly take an unexpected turn which affects everything.
"But when Brooks overhears part of a conversation Nate has with Greg at their friends' rehearsal dinner, she puts up a wall," the synopsis states. "At the wedding, Nate doesn't understand why Brooke is treating him differently and the two go their separate ways after the last guest has departed."
However, as Brooke finally realizes the truth, she will need to put her fears of love aside as she tries to make it right, even though she will still need a little push in the right direction.
"When Brooke later learns the truth, she's afraid it may be too late to make it right until an unexpected gesture gives her hope," the synopsis reads.
"Wedding Every Weekend" airs Saturday, August 15 at 9 p.m. EDT on Hallmark Channel.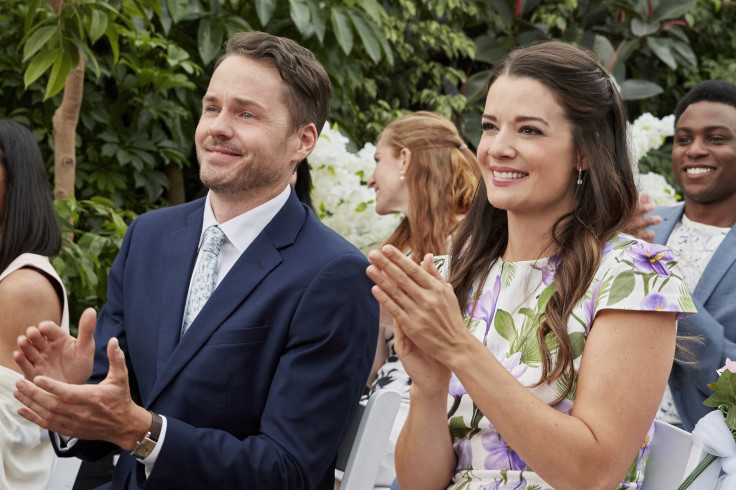 © Copyright IBTimes 2023. All rights reserved.