Western Monarch Day 2021: 5 Ways To Celebrate, Save The Iconic Butterflies
KEY POINTS
Western monarch butterflies travel to the California coast each year
Their population has significantly declined in recent years
There are simple ways to help the iconic butterflies thrive again
It's the perfect time to celebrate perhaps the most iconic butterfly species because Feb. 5 marks Western Monarch Day.
Monarch butterflies are some of the most easily recognizable butterfly species in the world. Their stunning wing pattern makes them so easy to spot and their migration route, which brings them from the northern U.S. and Canada to the mountains of central Mexico (eastern population) or the coast of California (Western monarchs) then back again, is always impressive to watch. This annual migration used to bring millions of Western monarchs to the California Coast.
In 2004, the state of California passed a bill making Feb. 5 California Western Monarch Day, now informally known as Western Monarch Day, both for tourism and education.
However, Western Monarchs have suffered a major population decline in recent years. In fact, the Xerces Foundation recently reported less than 2,000 monarch butterflies in the California Coast during this year's migration. That's a 99.9% decline from the millions of monarch butterflies that migrated in the 1980s, the organization said, noting that despite the frightening statistic, monarch butterflies still aren't protected by law.
This snapshot of the grim state of the butterflies makes this year's event so much more important.
On this day, let's have a look at some ways you can celebrate Western Monarch Day by doing our part to help save them, courtesy of the Xerces Society for Invertebrate Conservation (Xerces Society), National Geographic and the National Wildlife Federation (NWF).
Give Them A Place To Breed
One of the main reasons why monarch butterfly populations are declining is because of habitat loss and degradation. According to National Geographic, milkweed is the only food that monarch caterpillars eat and the only place where the adults lay their eggs. With much of the milkweed fields removed in recent years, monarch butterflies have essentially lost their homes and food source.
One simple thing you can do to help monarch butterflies is to plant milkweed in your community. This way, the butterflies will have a place to breed and rebuild their population. But remember to plant native milkweed species, the NWF said, as planting non-native milkweed species can cause problems. Non-native tropical milkweed, for instance, can interrupt monarchs' migratory cycle and even lead to disease, Xerces Society said.
Have Nectar Plants
Adult butterflies need sustenance, too. Apart from milkweed, the NWF recommends planting a variety of other nectar-producing plants, flowers and shrubs to provide the adults with food. Just like with the milkweed, it's best to plant native species that can adapt to climate change and be beneficial to other native insects as well.
Xerces Society recommends planting flowers that bloom in early spring and the fall but advises those who live on the coast to opt for plants that bloom from November to January.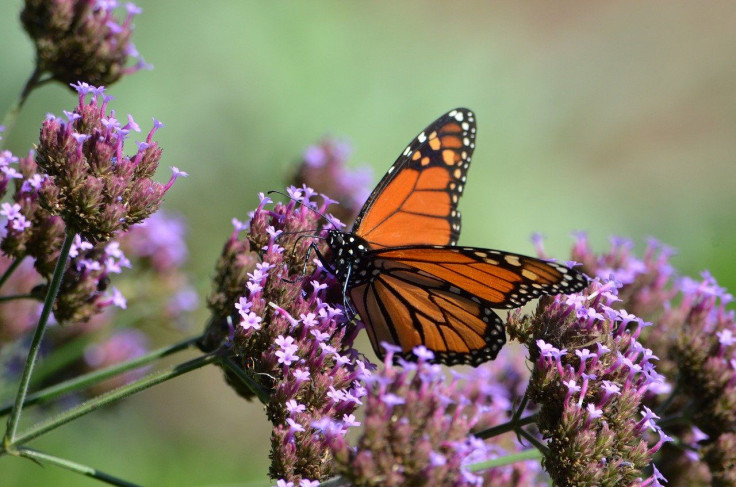 Be Involved
There are organizations and projects that aim to conserve monarch butterflies, National Geographic said. In fact, there are also some citizen science projects that call for citizens to help collect data on monarchs.
Xerces Society, for instance, is asking Californians and Arizonians to help them collect data on monarchs, particularly from February to April, when the butterflies leave their overwintering sites.
Whether you donate to the organizations' efforts, help them spread awareness or actually participate as a citizen scientist, you can contribute to the efforts to save the species.
Skip The Pesticides
It's quite obvious how pesticides can be harmful to monarchs, whether they're in their adult or caterpillar stage. Even herbicides can harm the monarchs because they can also be harmful to milkweed and the other plants that they rely on.
A simple way to help save the monarchs is to simply skip the pesticides and instead try your hand at organic gardening.
Spread The Word
Western Monarch Day may be the perfect time to do this simple act of raising awareness about the plight of western monarchs. By using the #SaveWesternMonarchs on social media or using the Save Western Monarchs frame on your Facebook profile picture, you can help spread the word and perhaps even inspire other people to help save them as well, Xerces Society said.
Whether you post on social media about western monarchs, research more about them or decide to share a little bit of your home to monarchs, Western Monarch Day is a good time to make yourself more aware of these butterflies' plight and encourage others to also do their part to save the iconic creatures.
© Copyright IBTimes 2023. All rights reserved.