'Westworld' Season 3: Meet The Newest Cast Members Before 2020 Premiere
"Westworld" Season 3 trailers have been leaving fans immediately wanting more. One of the things they were surprised to see was the immensely different setting and atmosphere. On top of that, however, the fans have been curious to see more from the newcomers that were announced.
"Westworld" Season 2 ended with Dolores (Evan Rachel Wood) making her way into the real world beyond the cowboy-themed amusement part she was confined to. That's the last thing fans saw -- her exit. But what was left unseen was the world outside and who inhabited it.
That's where these new additions to the sci-fi series come in. These new "Westworld" Season 3 cast members might just look familiar.
Aaron Paul
Those who love "Breaking Bad" were excited that one of their favorites, Aaron Paul, was making his big entrance into this series as a leading man. Aside from the Emmy-winning AMC crime drama series, Paul has been a series regular on "Bojack Horseman" since 2014. The popular Netflix animated comedy-drama just wrapped up its last season.
According to Cinema Blend, Paul's character Caleb Nichols, "will challenge Dolores' notions about the nature of humanity," series showrunner Jonathan Nolan described. "He's the type of person who doesn't get to go to Westworld." Caleb appears to be a construction worker who works with the opposite end of the world of robotics, seeing them as a workforce.
Vincent Cassel
Cassel is a French actor who is best known for playing François Toulour in "Ocean's Twelve" and "Ocean's Thirteen." He is also known for his role in the controversial French film by Gaspar Noé "Irréversible."
In "Westworld" Season 3, Cassel plays a mysterious role by the name of Serac.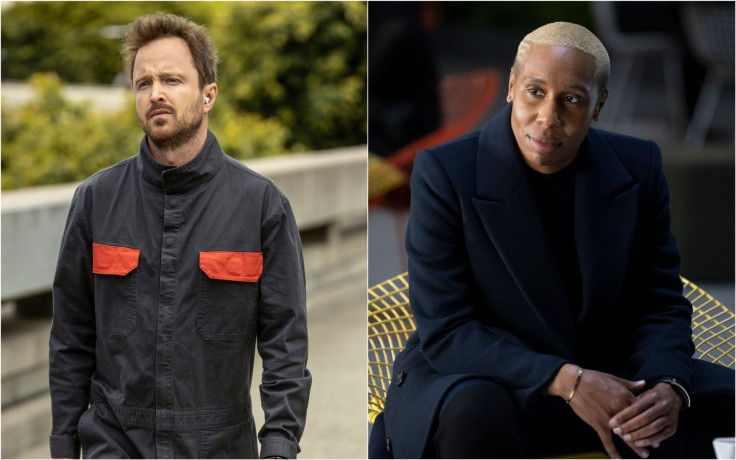 Lena Waithe
Waithe has been all over the place lately as both an actress and a screenwriter. Fans of her acting career may recognize her from Aziz Ansari's Netflix series "Master of None." Recently, she appeared in Disney and Pixar's "Onward" as the Disney animated world's first LGBTQ character, Officer Specter.
Waithe also wrote the screenplay for the critical hit "Queen & Slim."
Scott Mescudi
Fans of rapper Kid Cudi (real name Scott Mescudi), who have been following his transformation into an actor, get to see the multi-talented man take on a dark, dramatic role. Mescudi made his acting debut in his own short film "Maniac," which was also co-written by Mescudi, along with Shia LaBeouf and Chris Palko. He also starred alongside Paul in "Need For Speed." He has an upcoming show from HBO called "We Are Who We Are."
Mescudi's character has yet to be fully revealed and only a couple seconds worth of trailer footage can hint at the possible role he's portraying. The rapper-actor appears to be wearing an orange prison jumpsuit with his hand against the glass, insinuating he's a prisoner speaking to an unknown person.
Marshawn Lynch
Lynch is best known for his guest roles in "The League" and "Brooklyn Nine-Nine." The NFL Seattle Seahawks running back is making his full-fledged acting debut in "Westworld" Season 3 as an unknown character, but ESPN calls it a "fun and substantial" role. Lynch is seen hanging out behind Caleb as some kind of bodyguard character in the trailer.
John Gallagher Jr.
HBO's "The Newsroom" actor John Gallagher Jr. is set to play an unspecified role in the upcoming "Westworld" season. Previously, he starred in the sci-fi thriller "10 Cloverfield Lane" and "Olive Kitteridge." But Gallagher's biggest call to fame was Broadway. He played Johnny, or the Jesus of Suburbia, in Green Day's Broadway musical play "American Idiot" and originated the role of Moritz Stiefel in "Spring Awakening."
Michael Ealy
Michael Ealy is playing yet another unknown character in "Westworld" Season 3, but the "Stumptown" actor was spotted at the Los Angeles Chinese Theater for the premiere of Season 3. He has also played significant roles in "Being Mary Jane" and "Secrets And Lies."
Tommy Flanagan
Best known for his role as Filip "Chibs" Telford in FX series "Sons of Anarchy," Flanagan is playing someone named Martin Connells in "Westworld" Season 3.
We will get an idea of who these actors are playing when "Westworld" Season 3 premieres Sunday on HBO.
© Copyright IBTimes 2023. All rights reserved.