What Is Adam West's Cause Of Death? Family And Fans Respond To 'Batman' Actor Dying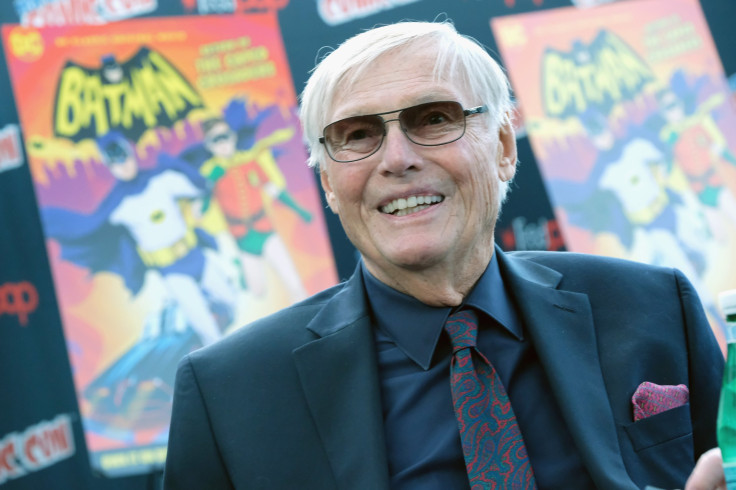 Adam West, best known for his role as Batman on his 1960s ABC-TV series, died Friday night at age 88. According to a representative for the actor, West died after a short battle with leukemia. His family released a statement Saturday that remembered the caped crusader and his desire to be a beacon of positivity for his fans.
"Our dad always saw himself as The Bright Knight and aspired to make a positive impact on his fans' lives. He was and always will be our hero," said the actor's family in a statement. West reportedly died while surrounded by family, who included his wife Marcelle, six children, five grandchildren and two great-grandchildren, according to the Hollywood Reporter.
Read: Batman Movie 'The Killing Joke' Receives An R-Rating Proving Mark Hamill's Joker Is Not For Children
On West's own Twitter account, the family posted a note to fans that read, "Our beloved AW passed away last night. He was the greatest. We'll miss him like crazy. We know you'll miss him too."
Fans had already taken to social media Saturday afternoon to remember the titular TV Batman, whose roles also included Mayor Adam West on "Family Guy" and myriad other voiceover roles.
"Adam West gave probably the most inspired and ingenious performances in the history of television. He is revered by my generation of comic minds," television host and comedian Conan O'Brien wrote in a Twitter note. "He was also a sweet and lovely man, and it was a rare honor to know him."
Another fan, Liz Finnegan, wrote, "In 1983, Adam West wrote a short op-ed about video games. In 2017, I'm tearing up reading it. Sleep easy, Mr. West. And thank you."
West famously struggled with being typecast after his role as Bruce Wayne's alter ego in the '60s, but later revealed that he saw the "comedy" in reprising his role over the years. In a February interview with Variety, West discussed what playing Batman meant to him in over five decades.
"Money," West said. "Some years ago I made an agreement with Batman. There was a time when Batman really kept me from getting some pretty good roles, and I was asked to do what I figured were important features. However, Batman was there, and very few people would take a chance on me walking on to the screen. And they'd be taking people away from the story. So I decided that since so many people love Batman, I might as well love it too. Why not? So I began to reengage myself with Batman. And I saw the comedy. I saw the love people had for it, and I just embraced it."
© Copyright IBTimes 2023. All rights reserved.