What Is An Atmospheric River? Weather Phenomenon To Impact California On New Year's Eve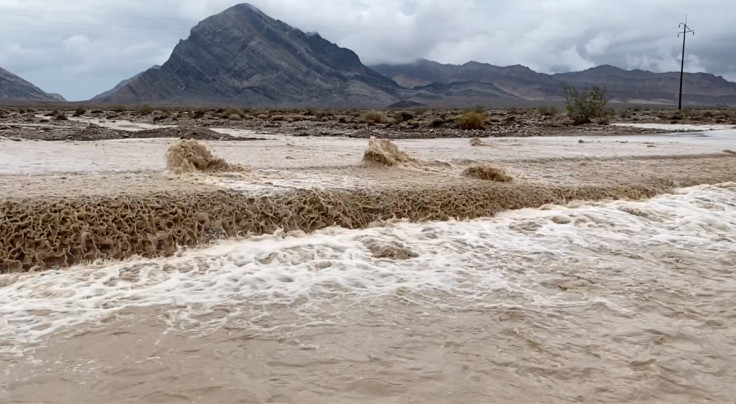 California will start 2023 on a damp note as significant rainfall is expected over most of the state's central and northern regions going into the new year. Up to 16 inches of rain is expected in some areas, according to AccuWeather.
This weekend's rain is not a part of a typical weather pattern. It's an atmospheric river that could cause flooding, mudslides and avalanches because of the amount of precipitation. Forecasts call for rain in some areas for more than 24 hours straight.
The National Oceanic and Atmospheric Administration (NOAA) define an atmospheric river as a narrow region in the earth's atmosphere, similar to rivers, that move condensed water vapor from the tropics around the world. The rivers move with the weather systems. The flow of water vapor is similar to that of the mouth of the Mississippi, according to NOAA.
When atmospheric rivers make landfall, the water vapor cools and turns into snow or rain. The western U.S. is more prone to atmospheric rivers because warm air from the tropics and Oceania sweeps into California and mixes with air from the Sierra Nevada, causing temperatures to cool drastically.
The National Integrated Drought Information System reports that 80% of California is experiencing severe drought. Some 35.5% of the state is in extreme drought and 7.2% is in exceptional drought. Recent rain and the coming storm could help raise California reservoir levels, as most of the state's water supply reservoirs are sitting at or below their historical average.
While heavy rain influx is usually a positive for drought areas, it can cause more harm, as drought-ravaged regions are more susceptible to flooding. Long periods of drought kill rooted plants and dry up the soil, so instead of soaking up water, it repels it.
In August, Professor Rob Thompson from the University of Reading posted a video on Twitter that went viral explaining how dry soil repels water.
AccuWeather reports rainfall in some areas could exceed 20 inches between Saturday and Sunday. Melting snow in the mountains could increase flood risks. In addition, meteorologists expect mudslides in areas recently burned in wildfires as the soil is unstable.
CNN reports a flood watch affecting 16 million has been put in place through Saturday night for the Bay area and central California. While the rain should mostly subside by Sunday, it will be replaced by strong wind gusts between 30 to 50 mph. The National Weather Service has listed over 45 weather advisories, watches, and warnings for the state.
AccuWeather reports that the increase in winter storms in the west indicates that the La Niña weather conditions off the Pacific coast are winding down.
"California is likely to continue to get hit by frequent storms into the first part of January," said AccuWeather Lead Long-Range Meteorologist Paul Pastelok.
"But, the storms may back off later in January then return in February as other signals [including Pacific Ocean temperature patterns] become stronger as La Niña continues to weaken," he said.
© Copyright IBTimes 2023. All rights reserved.